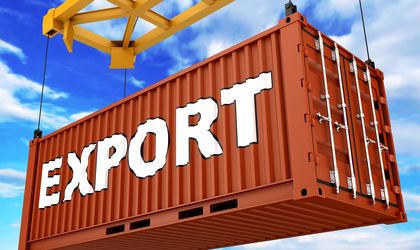 The Romanian economy is headed for a historic record of exports in 2019, going beyond the EUR 70 billion threshold triggered by car and automotive construction, manufacturing, agriculture and software, according to a study by Moneycorp.
"In 2018, the Romanian economy exported goods and services of over EUR 67.7 billion, up 81.3 percent as compared to 2010 (EUR 37.3 billion) and 8.1 percent above the level of 2017. Estimates regarding the evolution in 2019 shows a slightly more moderate growth than in the previous year, below 7 percent, to the level of EUR 72.4 billion," shows Moneycorp's international trade analysis.
According to the cited source, the automotive sector, with Dacia-Renault, Ford and car-parts producers in the forefront, could provide this year's main export growth factor after having in 2018 secured 18.8 percent of the volume ( EUR 12.7 billion), an increase of about 13 percent over the previous year. Exports of electrical machinery and equipment accounted for 28.7 percent of total exports in 2018, up 9.1 percent over the previous year.
"The launch of new car models and the expansion of auto parts and car parts manufacturers will be a significant factor in the evolution of Romania's exports in the 2019-2020 horizon," shows Moneycorp analysts.
Manufacturing will contribute more than 30 percent of the volume of exports, and agriculture and livestock sector by over 6 percent. According to Moneycorp's analysis, in 2018, in the best year for Romanian agriculture, the value of exports exceeded EUR 3.57 billion, up 2.1 percent over the previous year and by over 20 percent more than the level of 2010.
"Beyond the increase of the trade deficit, a major problem with significant economic consequences, the Romanian economy continues the upward trend in exports. Statistics show that in recent years we are seeing a reversal of the trend in 2000, when Romania exported mainly raw materials. The structure of exports thus presents a constant improvement, the share of the products of the machine building and transport equipment industry reaching, for example, 47.4 percent. Out of the total Romanian exports, more than 75 percent are the manufactured products. The economy produces more finished products, with high added value, which attracts a horizontal economic development involving more and more companies," says Cosmin Bucur, managing director of Moneycorp Romania.
According to the analysis, more than 22,000 companies currently carry out export activities in Romania, increasing by 5.3 percent compared to 2013. Most of them are active in commerce (8,540), manufacturing (7,875), transportation / storage (1,107) and agriculture (1,067). The majority (14,500) have Romanian capital, over 5,000 have foreign capital, and 2,500 mixed capital.
Companies with foreign capital in Romania export an average of EUR 5 million, while companies with full Romanian capital register an average of EUR 600,000. The difference is even higher, 13 times, for importing companies. In this context, specialists point out that differentiated access to international markets is related to business relationships, the reputation of companies and their financial soundness.
"The potential of Romanian companies is further strained by the lack of effective promotion strategies and the insufficient support provided by Romanian economic missions abroad. At the same time, Romania needs a joint state-private effort to support the competitiveness of Romanian products on an international level the emphasis on innovation, quality and support services are paramount in a global economy in a challenging period. Ensuring competitiveness also includes the predictability of financing costs, including currency risk coverage," says Claudiu Ghebaru, senior dealer at Moneycorp Romania.
The document also reminds that in 2018 imports increased by over 90 percent compared to 2010 and Romania's trade deficit increased by 16.8 percent to EUR 15.1 billion.
"Eurostat's latest data shows that, beyond the UK, France, Spain, Portugal and Greece – reporting the largest trade deficits in the EU, our country had the largest deficit in the region in January 2019, at EUR 1.3 billion, in a significant increase, from EUR 800 million in January 2018. Poland, Hungary and the Czech Republic were on a positive balance, while Bulgaria reduced its trade deficit by EUR 100 million last year, mainly influenced to improve trade at intra-Community level," says the experts.
For this year, Moneycorp estimates that the value of Romania's trade deficit would go below the level of EUR 17.7 billion, given that Romania's imports are estimated at EUR 90 billion.
Germany provides over 20 percent of the volume of Romanian imports, with a total of EUR 16.9 billion, followed by Italy (EUR 7.7 billion), Hungary (EUR 5.6 billion) and Poland (EUR 4.6 billion). China, the country where many of the goods sold in Romania come, ranks number 5, with the value of EUR 4.4 billion, up 12 percent over the previous year, and by more than 50 percent compared to 2013.
Germany is also the main destination for Romania's exports, reaching over 23 percent of Romanian exports in this country. In 2018, Germans bought goods produced in Romania of EUR 15.5 billion, up 8.4 percent compared to 2017 and over 110 percent compared to 2013. Another major trading partner of Romania is Italy, where firms Romanian companies exported EUR 7.7 billion last year, up 35 percent compared to 2013. Romania's export destinations are followed by France, which bought Romanian products worth EUR 4.8 billion, Hungary (EUR 3.3 billion), the UK (EUR 2.8 billion) and Bulgaria (EUR 2.2 billion).
"In addition to the growing trade relations with the EU countries, statistics show a significant advance in business with countries such as Armenia, Kazakhstan, Uzbekistan, Sri Lanka, Egypt, Lebanon or Nigeria, where the volume of exports, compared to 2013, has doubled, and in some cases has even increased 3-4 times compared to previous years. Even in the US relationship, we are better than 6 years ago, with about EUR 1 billion reported in 2018. From cars, fuels, chemicals, livestock and livestock farming (especially wheat), trade relations with non-EU countries have exceeded the EUR 15 billion mark in 2018," says Moneycorp.
On the other hand, the authors of the document draw attention that the growth potential of Romania's foreign trade is significantly influenced by the precarious condition of the infrastructure.
"The lack of highways, which generates additional transport costs for companies in Romania compared to other countries in the region, the depreciation of the railway network and the absence / degradation of cargo management facilities are the main challenges, adding to the degradation of the Danube shipping sector and the absence of investments in the expansion of the river transport areas," says the report.
According to Moneycorp, Romania ranks 29th out of 43 in Europe in terms of mileage of the motorway. Last year, only 763 kilometers were in use, accounting for 4.3 percent of all national roads, as countries such as Poland or Croatia have twice as much, according to Eurostat data. The opposite is Spain, with 15,500 kilometers of motorway, and Germany with over 13,000.
By rail, according to a World Economic Forum report, Romania ranks 24th in the top of transport efficiency with a negative score of 3.06 points. Bulgaria is two places higher, with 3.32,
"Road transport, even with infrastructure challenges, has become the main vector of foreign trade management. But in order for the economy to grow sustainably, there is a need for a significant expansion of transport routes, from rail to waterways and air," shows the report.
On the other hand, beyond the expansion of trade relations with foreign partners and the necessary optimization of transport infrastructure, the evolution of international trade also depends on how companies manage their budgets.
"Foreign exchange, major fluctuations in the market, fees for international payments or the lack of a hedging strategy may cost a company, and their optimization must be at the forefront. Exporters and importers need integrated solutions to hedge foreign exchange risk," says Claudiu Ghebaru.