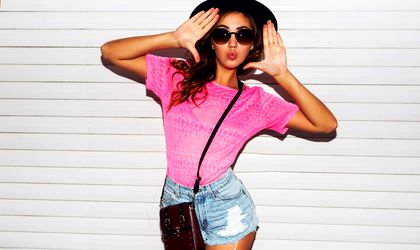 Fashion consumers prefer online shopping for better prices and are looking for discount offers, according to a study among internet users. Also, they are willing to spend more when buying online than in regular shops.
Glami, the fashion online catalog, launches Fashion (Re)search, a long-term project analyzing the local market and consumer habits. The study covers various topics and is based on the results of online research conducted on a representative sample of Internet users in Romania in the last quarter of 2018.
Glami users who participated in the study prefer shopping online due to the better prices found in online stores (63 percent) and buy online in the discount season (52 percent). 45 percent of respondents said they did not find the same diversity in physical stores.
81 percent of respondents have the tendency to buy in well-known online stores, with Romanian content; international shopping seems to be on the rise, with 13 percent of respondents making international online stores like ASOS.com or Farfetch.com in the past year. Moreover, respondents say they generally view the offer of 4-6 online stores before making the actual purchases, finishing an order in more than 60 minutes, over time spent in a physical store.
62 percent of those surveyed buy regular outfits from physical stores, visiting between 4 and 6 such stores, with a shopping session between 40 and 60 minutes before the actual purchase.
Behavior of local buyer and favorite products
More than one-third of respondents wear a clothing item at least 30 times before it is put out of use. Wardrobes are renewed on average once a year (41 percent) due to a change in personal style (49 percent) or size (43 percent). Respondents also said clothing items they no longer wear either to friends, as gifts, or to donation organizations as donations. However, corroborating this data with those obtained by Glami Fashion (Re)search in other countries participating in the survey, Romania is in a hurry for the life of a certain clothing item.
Long-lasting quality is the most important feature when we talk about footwear (69 percent), followed by jackets (62 percent). Other clothing products that are ranked in the top places, when the purchase is dictated by quality, are pants, sweaters, dresses, charts and shirts. For 11 percent of those questioned, the quality that lasts over time is the main factor they take into account when talking about the purchase of underwear and pajamas.
The sport clothing are preferred by 80 percent of the users, as part of their everyday clothing, thanks to their comfort.
Overall, 78 percent of those surveyed are willing to spend more on quality clothing when ordering them online. A product that tempts buyers and is also one that they consider necessary is the main reason for online shopping in 39 percent of the cases.
For a quality jacket, the respondents are willing to pay over RON 300, as long as the quality of the material is clearly explained.
Rate of return and refusal
85 percent of the respondents say they would not buy online just because they can return the order in a short time, 50 percent would not return products that do not fit well and 77 percent would not buy the same article in two different sizes. 1 in 10 products are returned by 34 percent of those surveyed because of size differences.
93 percent of the Romanians who participated in the study would buy online clothing, accessories, fashionable shoes made by local designers, and 47 percent of them have ordered at least one fashion item created in the last year of local designers.
More than 64 percent of respondents say they are willing to pay more for sustainable products, up to RON 225 or more per piece. The reason why they did not buy more clothing with these qualities is that they did not know that the product belonged to this category.