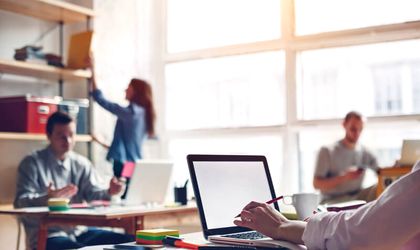 A new global study has discovered that the noise epidemic is worsening in the workplace and employees who work in noisy offices are more likely to leave their job within six months. Only 1 percent of employees now say they can block out distraction in the office, a dramatic drop since 2015, according to a Oxford Economics study. 
Open offices are designed to increase employee collaboration, but a new study from Oxford Economics, commissioned by Plantronics, an audio pioneer and communications technology leader, finds that the resultant noise pollution of the open office is reaching epidemic levels. According to the findings, conditions have grown much worse since Oxford Economics conducted its first such study in 2015.
Oxford Economics interviewed 500 senior executives and non-manager employees from many industries and functional areas for the 2018 study. Participants hailed from the United States, the United Kingdom, Germany, India, China, Australia, Denmark, Sweden, Finland and Norway. The study also included detailed interviews with executives who are taking steps to deal with these business collaboration and productivity challenges in their open offices.
And the findings indicate that open office conditions have dramatically deteriorated:
The majority of executives and employees report near-constant noise in their workplace and many say they lack quiet space for meetings or to focus. Conditions are much worse now than three years ago, yet the executive disconnect remains.
Only 1 percent of employees (down from 20 percent in 2015) say they are able to block out distractions and concentrate without taking extra steps in the office.
54 percent of executives believe their employees have the tools they need to mitigate noise and distraction in the office, but only 29 percent of employees agree (down from 41 percent in 2015).
As a result, employees are taking matters into their own hands by leaving or tuning out their surroundings to get work done: 75 percent of employees say they need to take walks outside to focus, and 32 percent use headphones to block out distraction. Besides, employees in the noisiest office environments are more likely to say they may leave their job in the next six months.
Noise,  distractions  and  the  pressure  to  be  constantly  connected—at  work  and  at  home—are  taking  a  toll  on  executives  and  workers  alike. Most  workplaces  are  noisy  and  distracting:
Less than  one-fifth  of  respondents  say  their  work  environment  is  quiet,  and  few  have  the  tools  they  need  to  drown  out  the  noise  around;
One in  five  employees  say  noise  in  their  office  negatively  affects  their  job  satisfaction;  one  in  six  say  it  is  detrimental  to    (And  executives  are  even  more  likely  than  workers  to  say  noise  is  detrimental  to  employee  satisfaction  and  well-being.)
Meanwhile,  nearly  two-thirds  of  employees  say  lack  of  quiet  space  for  focused  work  has  a  negative  effect  on  their  productivity,  satisfaction  and  well-being.
These  problems  persist  after  leaving the office.  Nearly  half  of  executives  say  they  expect  their  direct  reports  to  be  available  after-hours  frequently  or  always—and  two-thirds  of  employees  cite  pressure  to  work  at  all  hours  as  detrimental  to  their  well-being  and  productivity.
Even  at  home,  noise,  distraction  and  constant  connectivity  are  an  issue.  Roughly  two-thirds  of  workers  say  they  experience  information  overload—up  from  just  27 percent  in  2015—as  well  as  pressure  to  be  always  connected  as  a  result  of  new  digital  technologies.
Nearly  three-quarters  (74 percent)  of  employees  say  this  has  a  detrimental  effect  on  their  well-being  and  productivity.
Millennials want open offices
According to the study, millennials, or those aged 22 to 36, are more accustomed to an open office versus older colleagues, likely because they started their careers in such a setting. Despite that, they are the first to acknowledge the issues that come with these environments and tend to deal with these challenges differently than their older colleagues. Millennial employees are:
Much less likely to say they find a noisy working environment energizing (9 percent, versus 30 percent of older colleagues).
Less satisfied with their office layout than older employees (38 percent of millennials versus 48 percent of others).
More likely to say their organization should address noise, distraction and information overload (89 percent versus 75 percent of older co-workers).
More likely to say they take walks outside to focus (84 percent versus 63 percent of older employees), and less likely to use an office break room or quiet space.
Plantronics commissioned the study to better understand how to help create environments where employees thrive.
"This year's results are telling – open offices may provide overall cost savings, but they're taking a toll on our productivity and wellness," said Jennifer Adams, director, Enterprise Solutions Marketing. "We're applying nearly 60 years of expertise in acoustics to come up with a whole range of solutions to address these challenges, from noise-cancelling headsets to our Habitat Soundscaping solution. Our vision: an open office that employees are excited to come into because it enhances their well-being and inspires them to do their best work."