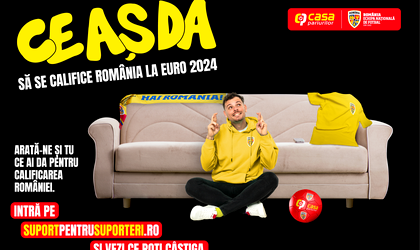 MullenLowe Romania signs the new WHAT I'D GIVE campaign, through which Casa Pariurilor challenges the Romanian supporter community to share what would they'd be willing to give up, in order for the national team to qualify for Euro 2024.
Casa Pariurilor has become official partner of the Romanian National Football Team, and through its WHAT I'D GIVE campaign, showcases the Romanian fan support toward the National Team – more exactly, just how much fans wish to qualify for the Euro. As a gesture reflecting the players' sacrifice, who struggle to do their best on the field, the campaign commences from the footballers' intense training periods, before and throughout important matches, during which they eliminate any kind of distraction – this way giving up several things they love, to be at their best for the game.
"Last year we launched Support for Supporters, a platform that aims to support football performance and restore the supporters' faith in their favourite teams. This year, we're developing this platform with a new campaign – WHAT I'D GIVE, offering Romanians the chance to get closer and show their support for the national team. We asked fans what they they'd be willing to give up in order to see Romania at the Euro. The TV, a motorcycle, or half of their holidays are some examples of things they'd be willing to give up for the sake of another qualification", said Anca Mușat, Marketing Director, FEG – Casa Pariurilor.

"Just like in football, we at MullenLowe Romania offer creative solutions based on relevant insights. And because the ball is round, we set out this campaign from the footballers' sacrifice and effort put out during the matches, but also from an well-established collective-language idiom: 'what I'd give…' Through WHAT I'D GIVE, we aim to help Casa Pariurilor increase support for the Romanian National Team. Just as the tricolours do, campaign after campaign, WE GIVE EVERYTHING and show the full support of the supporter community", said Vladi Păunescu, Group Creative Director, MullenLowe Romania.
MullenLowe Romania provides multi-channel creative solutions, and the campaign is supported by the suportpentrusuporteri.ro/ceasda campaign website, where, through uploaded files, they can show what they'd give for Romania's qualification, thereby entering the competition to win one of the 50 official national team shirts signed by the players. Also here, Romanian football personalities and supporters answer in video format to the same question – "What would you be willing to give to see Romania at the Euro?". The campaign has also got strong social-media presence, through collaborations with a number of influencers who are also big Romania supporters.
The teams involved in the campaign:
Fortuna Entertainment Group team: Anca Mușat (Marketing Director), Alexandru Banu (Brand Manager).
MullenLowe Romania team: Silviu Antohe (Executive Creative Director), Vladi Păunescu (Group Creative Director), Mario Francisco (Senior Art Director), Alexandru Ranete (Graphic Designer), Mircea Solomiea (Graphic Designer), Andra Panaitescu (Client Service Director), Anca Duță (Account Director), Silviu Clinciu (Account Manager).