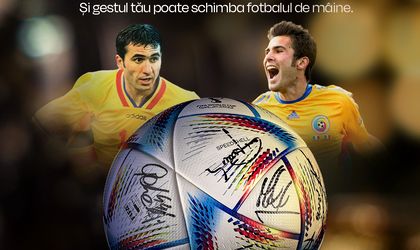 Tazz and Sports Festival put up for sale the official ball from Adrian Mutu's last game and the entire sum will be donated to Special Olympics Romania's Unified football team of 16 young football enthusiasts.
Unified Sports®, part of Special Olympics, gathers athletes with and without intellectual disabilities to play in the same team, proving that team play, and sports comradeship can break boundaries, by building a model of acceptance and inclusion in sports for future generations. Therefore, Tazz and Sports Festival aim to support these new generations who write football history, promoting inclusion in sports.
By selling the symbol-ball from The Brilliant's' last game, Tazz and Sports Festival redirect 25,000 lei to Special Olympics Romania, to support these young football players on their path to promoting inclusion in sports, an unbelievable team spirit and an active lifestyle, inspired by their passion for football. More about the ball's story and selling process can be found here: https://sportsfestival.tazz.ro/.
The story of the symbol-ball debuted on June 11 on Cluj Arena, at Sports Festival, where it was delivered directly in Mutu's hands at the start of his last game by national and international Bike Trial champion Iulian Zaharie as Tazz rider. The ball is signed by international football legends, from Adrian Mutu and Gheorghe Hagi to Claude Makélélé, Luca Toni, Fabio Cannavaro and many other remarkable names in sport's world.
"This donation to Special Olympics Romania marks a special moment and it has a unique meaning for us because, in partnership with Sports Festival, we are aiming to contribute to writing new chapters in football history, by promoting an inclusive approach to sports. Therefore, we consider this to be the beginning of Tazz's involvement in supporting future generations with a passion for sport in Romania. We want to thank Sports Festival for motivating us, mentoring us and with whom we seek to bring a relevant contribution for young athletes today." mentioned Răzvan Acsente, Tazz Chief Marketing Officer.
—
"For us, sport means inclusion and community, fair-play, enthusiasm, and health. Now, we are experiencing the four elements animating sport's world in general. Even though Sports Festival lasted only 4 days, the event created strong symbols around it. The third edition marks its footprint further in the community, thanks to the last ball Adrian Mutu played with in his last game. A symbol with great importance, the ball was signed by players who made history in international football, while its destiny is as extraordinary because its sell will support the passion for sport by the donation to Special Olympics Romania. We want to thank Tazz for getting involved without hesitation in this project, to all the players present at the demonstrative game at Sports festival, whose signature created the story of the ball and to the fans of sport who know what value and cohesion power this symbolic object can have." added Mirel Alexa, Sports Festival Executive Director.
The campaign is 18+.