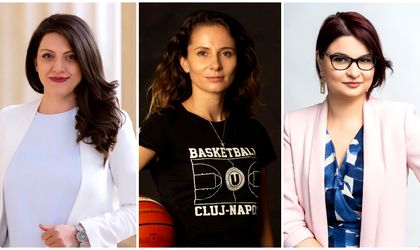 Even though the covid-19 pandemic is still present, 2021 is an important year for sports worldwide, with the Olympics taking place in Tokyo and, for Romania specifically, as it hosted several football games from EURO 2020, while the Women's European Volleyball Trophy toured the country's most important cities, giving fans a chance to see it up close and take pictures. Euro Volley 2021 will be co-hosted by Romania, Bulgaria, Serbia and Croatia.
By Romanita Oprea
As Romania has made changes to its legislation in order to begin recognising esports (electronic sports) and even organised the Esports Summit Bucharest in July, we should take a closer look at the communication of a sports event, especially during a pandemic: from strategy, ideas, and implementation to choosing the right channels and measuring results. Communication in sports marketing helps sports organisers attract participants and spectators to their sport or venue and helps raise revenue through sponsorship or investment.
What are the challenges of organising and communicating a sports event in 2021? According to Iulia Niculae-Cuciurean, marketing manager at the Romanian Football Federation (FRF), the pandemic period turned safety into our main concern, and this layer has influenced all aspects related to the planning of sports events. This is why sports organisations have decided to cancel fan zones and fan activations, rethink pre-match ceremonies and the player escort concept, remap stadium access and ticketing distribution, limit the number of suppliers, media, and staff for some areas during matches (players' areas, press conference spaces, etc.), introduce disinfection hours or new access procedures for the public, and so on. "We've also created 'safety bubbles' for the players – for instance, before the pandemic, we would allow access for sponsors' agencies inside the national team's training camps for content creation purposes; now such materials are made by the FRF team for the sponsors. That team is tested before entering training camps alongside the players and they stay inside the camp at all times, while no new people are allowed to enter. Everything needs a lot of planning, precise timings, and good synchronization between the departments involved," said Niculae-Cuciurean.
As for communication, while the challenge in 2020 was staying present in the life of fans and communicate in a relevant way despite the fact that lots of sports competitions were cancelled or postponed, in 2021, when competitions are returning and some public access is allowed, the challenge lies in creating the right balance between emotional and rational communication: come support your team versus you will be safe if you come. At EURO 2020, Romania did a good job in terms of finding the correct ratio and communicating health and safety measures, so that all available seats were occupied and no covid-19 cases were reported after the four matches that took place in Bucharest, which did happen in other countries.
Sports industry freelancer Simona Otel thinks that 2021 was a very challenging year for sports. Many competitions were either rescheduled or held without spectators. The pandemic had an obvious impact on athletes, sports organisations, and fans. As an organiser, the main challenge was keeping the fans close to the team from a distance. Digital channels were obviously the way to go. "We were forced to re-evaluate our marketing strategy and rapidly adapt to the new context. Messages were no longer focused on the energy and vibe of a competition. The core of communication was about empathy, support, and the need to stay strong as we were all going through this together. Meanwhile, competitions were taking place without spectators and, perhaps contrary to initial expectations, live sports TV viewership went down compared to previous years. Sports consumers are driven by emotion. If you can't live it and feel it from the stands, it's all in vain," Otel explained. She is currently a project manager at the U-BT Cluj-Napoca Basketball Club, but also has broad experience working in basketball communication in Spain and Romania.
Recently, events have started to return to "normal." A limited number of fans were allowed to watch games in person, while observing strict regulations. Still, many fans do not feel comfortable returning to their normal experiences. The organiser's mission is to adapt to this hybrid model: planning events according to pandemic requirements at the venue while delivering digital experiences for those who are not there.
For Alina Galeriu-Olteanu, managing partner at Galeriu & Partners PR, the biggest challenges were related to the uncertainty as well as the constant need to be ready to hit the restart button and reshape the entire plan. Now more than never, you simply need to operate with multiple scenarios right up to the date of the event and take all the variables into account. "Planning a successful event of any kind has always been a dance with uncertainty and has always relied on the organiser's ability to find a clever way to prepare for everything that might go wrong, but lately the overall context has generated even more pressure to operate with a thorough analysis of worst-case scenarios. Health and safety regulations are much stricter now, to the point where meeting fans has turned into a highly challenging and problematic chapter as you need to keep everyone safe and limit interaction according to official regulations. Fans' access to matches is also a highly questionable element in the strategy, since the situation can shift so abruptly that predictions do not seem to be enough every time," Alina Galeriu-Olteanu noted.
The positive side
Looking at some of the positive aspects, Simona Otel believes that the best thing that happened for Romanian sports was the fact that they were forced to make a huge digital step. Everything around us is going digital, but sports seemed to be doing so very slowly, taking small steps in this direction. "During the pandemic, fans wanted to see more of their favourite team and have contact with their favourite players, while parents wanted to watch their kids playing, so sports organisations had to find ways to deliver the required content. Many clubs started to livestream games for the first time, exploring new digital platforms, extending their means of communication, and significantly growing their online presence. Home workout and video trainings using telecommunication technologies were also quite popular, especially in the first few months of the pandemic," Otel added.
Moreover, Iulia Niculae-Cuciurean said that this period gave her and her team more time to develop strategies and look into the essence of things. As a result, they chose to focus on sports values and education and pay special attention to sports beneficiaries and to their partners, so they shifted to 365-day communication versus only communicating in the proximity of sports events, creating more digital content, allowing the public to see more behind the scenes, and focusing on fan engagement through campaigns like "Cupa vine la tine" or "Peluza Tricolora." This year, the FRF launched 3 important platforms: Academia Nationala de Fotbal and Academia powered by FRF (educational platforms that contain courses and specialisation programmes for both professionals as well as those who want to work in the industry and the general public) plus the relaunch of impreunasuntemfotbal.ro – a platform dedicated to grassroots competitions that also contains lots of useful information for parents and kids who practice football.
Some important changes occurred in the commercial area as well. The Federation strengthened its relationship with long-term partner Penny, who after 6 years of partnership became the supporter of all National Teams and the top sponsor for the Senior and U21 National Teams. Meanwhile, partners like Banca Transilvania, NORDIS Group, Old Spice, Head&Shoulders, Pambac or Fenomeo chose to invest and support different sports brands and competitions.
"Another good aspect is the fact that the pandemic context allowed the public to look more towards eSports, as the eFootball National Teams raised their profile with a consecutive qualification at eEURO (the PES National Team reached the semifinals of eEURO in 2020, and this year it managed to reach the quarterfinals) and the FIFA National Team qualified for the 2021 eNations Cup (equivalent of World Cup in football), a tournament scheduled for August," said the FRF marketing manager.
Still according to Iulia Niculae-Cuciurean, at a general level, there has been an evolution in the way people consume sports over the past few years, something that is well supported by digitalization and technology. Now, audiences tend to not just watch the match (either on TV or at the stadium), but to also stay connected with their friends, comment on different social media groups or platforms, and check statistics apps in real time. A small part of the audience is also using artificial intelligence to get the latest updates, watch replays or find out interesting things about the players or the teams, and this with the help of streaming platforms that have become more creativee in delivering personalised content and integrating technology. TV is still king, but streaming platforms are expanding with every year that passes.
All about the public
But is the target audience more or less demanding than others? According to Alina Galeriu-Olteanu, in a way, sports fans are more demanding. There is a blend of national pride and emotional investment in a long-term relationship supporting certain VIP players from the national team, which makes fans feel entitled to harshly criticise any mistake and take ownership of each victory. "This puts heavy pressure on the players' shoulders, and I would be very grateful if we could find a way to balance out all this energy coming towards them from the public. Perhaps over time the Romanian public will manage to find some maturity on this matter, because at times, fans seem to behave like little children being denied their favourite toy," she said.
"I would say that the target audience is more emotionally involved, and this has many consequences. Sports marketing plays with strong emotions, and this is why the association with brands is so powerful. It also depends on who we are talking about: active fans, occasional fans, passive fans or fanatics. For instance, an active fan or fanatic may easily forget about a nice activation from the beginning of the match if their favorite team is losing, while an occasional fan might always remember the positive vibe, activations, and choreography of a match," said Niculae-Cuciurean.
The overall experience of a match is determined by factors such as: team performance, logistics (tickets positions, access, facilities, etc.), activations, ceremonies and shows planned by the sport organisers, and the atmosphere created by the public – in sports marketing, just like in events marketing, the public is part of the "product": the chants, the waves, the choreography, their behaviour all contribute to the entire experience. If all of these are in line, then we can talk of experiences and strong emotions like the ones from the EURO 2020 France – Switzerland match in Bucharest, which the FRF's marketing manager thinks was the most beautiful match of this tournament.
"Sports fans possess a strong and intense emotional attachment. They feel a particular form of intensity compared to general consumers. Fans form deep connections to specific teams and it is almost impossible for a committed fan to change their preference from one team to another. True fans are loyal and the feeling that they are part of something big is very important to them. This is what makes them so passionate and few of them ever listen to others' opinions about their team. This type of behaviour is specific to sport fans and it makes them different from other consumers. They are likely to buy any product promoted by the team, without even needing it," said Simona Otel.
The importance of strategy in the communication of sports events is therefore immense, as one can easily see the complexity of sports: it drives emotions, it creates engagement in small to worldwide communities, it's a way of promoting values and local or national identities, and… it's a huge industry. In this context, communication is an essential element. The main role of strategic communication in sports is creating involvement, attraction, and commitment. Marketers must be able to adequately understand what motivates the sports consumer, what is the trigger for attracting sponsors, and how to keep the media actively involved. Asking the right questions and choosing the right message and channel are extremely important.
In the future
Sports events communication trends nowadays are moving towards authenticity, diversity, and hyperconnectivity. "I would emphasise the last one, the always-on and always-connected approach in terms of the relationship with the fans, the press, and everyone involved. The lines are more blurred than they've ever been when it comes to what is private and what is public, and yes, fans act like they own the players and get really invested in following them every step of the way. Social media channels are very helpful in maintaining this hyperconnectivity. In a way, this is a source of motivation for players, but on the other hand it can get quite stressful at times. You cannot hide, so you might as well show your true colors and own them," said Alina Galeriu-Olteanu.
"I would mention the integration of technology, which has a great impact on fans' experiences, on athletes' development and their health, as well as for the official decision-making process (eg: the usage of VAR). The sustainability trend also has a big impact on sports, and it will affect many aspects related to infrastructure, planning, participation, fan experience (eg: using ecofriendly materials for branding or activations, eliminating artificial turf, etc.). Last but not least, the development of streaming platforms and of the eSports market are not to be ignored, as the ascendent path they are on will reshape the entire landscape within a few years," Iulia Niculae-Cuciurean concluded.