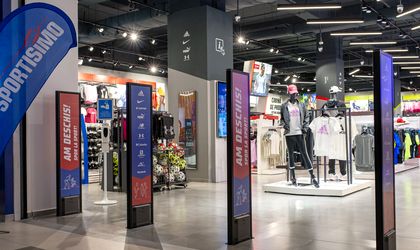 The Czech sporting goods retailer Sportisimo, present on the local market since 2015, opened a new store, the 35th in Romania. The plan is to open 5 more by the end of 2021. The retailer chose Mega Mall in Bucharest to launch the new store concept on the Romanian market, after the inauguration of those in Prague and Sofia in October last year.
With an area of ​​960 square meters, the new store has a new design and emphasizes the education, style and emotion associated with sports life. The stores have an innovative design and emphasize the customer experience and the efficiency of the space, being equipped with multiple educational materials that help customers choose the right products for their needs
"It was important to create a modern and accessible store where our customers can easily find what they are looking for, a store that keeps the look of Sportisimo and has a design with sustainable development." said Petru Andronic, Country Manager of Sportisimo Romania.
Sportisimo, the market leader in the Czech Republic in the field of sports goods, opened during the Covid-19 pandemic no less than 7 new stores in Romania and plans to open another 5 by the end of the year.
"The goal of all those who worked on this new concept was for stores to acquire more emotion, which, in contemporary retail, is the main differentiating factor. The customer, no matter where he is in the store, must have a clear overview of all existing categories." added Petru Andronic, Country Manager of Sportisimo Romania.
—
A distinctive feature of Sportisimo stores has become the orientation arrow. "It is a symbol that urges movement, gives a dynamic feel to the space and encourages the exploration of each category of products. Moreover, this visual symbol completes our motto >>Spor la sport!<<." underlines Maria Gheorghiță, marketing manager of Sportisimo Romania.
Sportisimo, present for six years in Romania, has 35 stores on the local market and an online shop. The retailer has direct collaborations with international brands, which gives it the advantage of having a wide range of products of the best quality at competitive prices. Sportisimo started as a small family business in 1999 and now owns the widest range of sports equipment brands on the commercial market in the Czech Republic and Slovakia. In addition to the e-shop, the company currently has around 190 stores in Europe, of which 104 are in the Czech Republic, 46 in Slovakia, 35 in Romania, 2 in Hungary and 2 in Bulgaria.