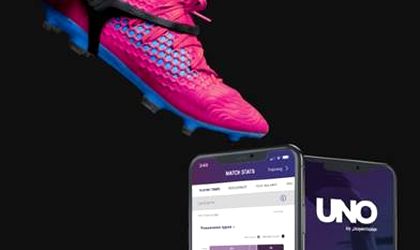 Playermaker, a world leading company in football performance tracking and player development technology, is proud to announce the launch of a NEW personal wearable device that has the potential to transform any athlete's boot into a connected footwear solution, providing elite-level development technology to consumers at an accessible price point, the 'UNO by Playermaker'.

Playermaker's award-winning technology has become the fastest growing connected footwear performance platform on the market and set the industry gold standard in tracking football-specific metrics. Tested and proven by more than 150 academies and professional teams around the world, the technology was previously only available to professional athletes through Playermaker's SQUAD Solution, created for team usage. With the launch of UNO by Playermaker, that same technology has been applied to an individual wearable device that football players of all skill sets can benefit from, a total addressable market of nearly 300 million worldwide.
The UNO by Playermaker tracks, analyses and visually presents key player performance indicators via a footwear-mounted device, complete with motion sensors on both feet and a connected mobile app. While GPS vests only measure the physical performance of athletes, the UNO by Playermaker captures quantifiable insights and data from the feet during training sessions and game play, that at the end of each use is uploaded through the mobile app to the cloud for analysis and visualization, thanks to the placement of the sensors. Insights include technical and physical performance such as touches, release velocity, technical balance, time on the ball, as well as distance covered, top speed, and number of sprints.
Guy Aharon, CEO and Co-Founder of Playermaker, said: "The connected fitness market has experienced exponential growth for some time, which has been accelerated by the pandemic, with an increase in consumers spending more time at home and placing greater importance on their physical health.
 "Huge players in the market like Apple Fitness+, Amazon Halo Band, Google Fit, Fitbit, and Peloton have noticed the trend and responded with great solutions. However, Playemaker identified that virtually no tools or technology existed to cater to team sport development. Specifically, there were no tools for an individual player to track and monitor foot-to-ball interactions from the feet or for coaches or parents to make data-driven decisions about player development plans, so we decided to extend our suite and take our technology direct to consumers. We are proud to be plugging that gap with our unique solution, the UNO by Playermaker, as part of our commitment to enable football enthusiasts of all skill levels to aspire for excellence. This has the potential to provide a connected footwear solution for almost any game, but in the first instance, has been optimised for one of the world's most complex sports, football. We are excited about bringing our connected footwear technology cross-category to other sports in the near future to transform the way all athletes play and train."
The UNO by Playermaker connects individual players with their clubs, coaches and parents, empowering them to formalise tailored development strategies and provide actionable feedback to athletes. In turn, the new technology offering for football is supporting players to better understand the areas they can improve in, benchmark with elite players, provide data on how to get there and track their performance over time to monitor progress.
The portable device is simple to use and doesn't require any additional infrastructure. Thanks to the placement upon both feet, the sensors are closer to the impact and compatible with any athlete's footwear, making the transition to cross over to be used in other sports in the future almost seamless.
UNO by Playermaker also opens up a groundbreaking avenue and goldmine of data for talent scouting and acquisition. With tens of thousands of players around the world being tracked at all levels, it has never been easier to scout for sporting talent remotely, the UNO by Playermaker provides access to player's performance information through the leaderboard that ranks and assesses the highest performing players and shares those statistics with others.
The UNO by Playermaker (RRP USD $249) is iOS compatible and available to purchase via www.playermakeruno.com, each kit comes with two smart sensors for each foot, an UNO charging case, two straps for each boot, a USB charging cable and quick start guide.