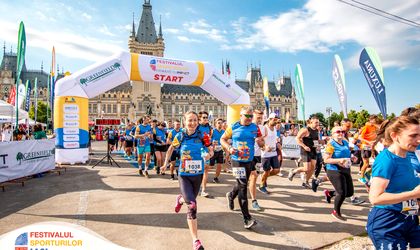 Several thousand sports lovers, athletes, volunteers and spectators alike, took part in the Iasi Sports Festival at the end of last week, from 15-17 July. Now at its first edition, the Festival is organised by the Running, Skiing and MTB Camps and Circuits with the support of IMPACT Developer & Contractor and the Iași City Hall, and with the support of many other sponsors and the local authorities of Iași.
Designed to be an annual event, this year's Festival included no less than seven sporting events: trail running, road running, mountain biking, obstacle race, sports orienteering, children's race and disabled race. The events have been set up to showcase the beauty and cultural heritage of Iași, the Palace of Culture, Stefan cel Mare and Copou Boulevards or the Exhibition Park as well as modern sights such as Palas Mall or the Greenfield Copou residential complex. Iasi was recently awarded the title of "Tourist Destination of the Year 2022" in Romania, and last weekend's festival also put the city on the sports tourism map.
In addition to the sports events themselves, sports workshops and film and documentary screenings were organised over the three days. The adult sports events had more than 500 participants and 300 children registered for the children's event.More than 160 volunteers ensured the smooth running of the event and several thousand spectators cheered on the athletes on each of the three days. The overall ranking of the competitions and the times achieved by the athletes can be found on http://festivalulsporturilor.ro and on the official Facebook page of the festival.
"Together with IMPACT Developer & Contractor we have managed to organise a major event in a completely new area for us, but an area with enormous sporting potential. The success of the event was due, on the one hand, to our team's over 13 years of experience in organizing large-scale sporting events, such as Marathon7500 – one of the toughest mountain running competitions in Romania, and, on the other hand, to the support we got from IMPACT Developer & Contractor. Thanks to them we were able to deliver an event that raised the standard of the profile events in Romania", said Silviu Bălan, the main organizer of the event.
Next in the series of "Events with Impact" supported by IMPACT Developer & Contractor, the Greenfield Băneasa Sports Festival will take place on 16-18 September.
"The idea of the Sports Festival was born out of our desire to develop sustainable communities, and healthy lifestyle, quality socializing are essential for the well-being of community members," says Gheorghe Iaciu, the main shareholder of the main sponsor of the Festival, IMPACT Developer & Contractor, himself a passionate practitioner of several sports.