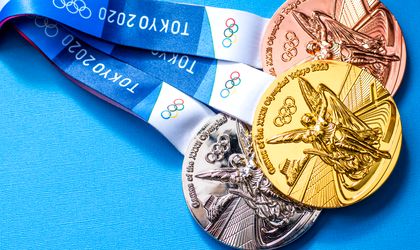 Romania finished the Olympics in 46th place in the official medal table. Yet, its economy ranks in 54th place when it comes to GDP per capita, which suggests that Romanian sports continue to outperform the economy, albeit not as much as it used to. 
By eToro market analysts, Bogdan Maioreanu and Paweł Majtkowski
While being wealthy does not necessarily make a nation good at competitive sports – of the top 5 richest countries in the world only Qatar was able to win medals (3) – we can see that there are countries like the United States, Britain, Germany and France that are both rich and successful in sports.
On the other hand, countries like China (88 medals), Russia or (71), Ukraine (19) or Kenya (10) are able to produce a lot of champions despite a lower GDP per capita.
So, we set out to gauge the economic effect on sports to see where countries would rank if all of them were of equal wealth. We adjusted the Tokyo medal table by dividing the number of medals each country received at the Tokyo Olympics (the sum of all medals, irrespective of colour) with the ratio of GDP per capita, to average GDP per capita for all countries ($10,925.7 for 2020). The result is an "economic medals" ranking – or wealth-adjusted Olympic medals.
Romania's GDP per capita stands at $12896 and it won 4 medals in Tokyo. While its athletes outperformed Romania's world economic ranking in Tokyo, other countries outperformed it more. Thus, in the combined index, Romania falls to 59th place, with only 3 "economic" (wealth-adjusted) medals.
For the USA, whose GDP per capita is 582% of the global average, the number of medals drops from the 113 it won in Tokyo to just 19 "economic medals," putting the North American sports giant in 15th place, despite coming 1st in the actual Olympics.
The same applies to Great Britain, which falls from 4th to 16th place when ranked by "economic" medals. Countries with lower GDP per capita and significant sporting success make the podium in our ranking, with China and Russia (under the flag of the Russian Olympic Committee) in the lead. The next best performers are a number of African countries, such as Kenya, Uganda and Ethiopia, who win many more medals than their economic status would imply. Ukraine (19 actual medals and 56 economic ones) also did well here, having won more medals than many richer countries.
Our modified medals table gives a slightly different perspective on modern sporting success. Although economics plays an increasingly important role in sport as it becomes ever more professional and commercial, perhaps money isn't everything, especially when it comes to competitive sports. Also, the wealth of citizens does not necessarily transfer adequately via governments into investment in new sports infrastructure and funding for developing athletes and ensuring a large base of selection from which to choose a few top performers that can win medals.
Poorer countries that have a large base of selection and are able to centralize resources and spend them efficiently can and do develop sports champions, much like Romania used to do under communism. The highest number of Olympic distinctions at a summer edition was reached in 1984 in Los Angeles, when Romania won 53 medals, ranking second.
Nowadays, Romania is increasingly not able to do that anymore with its sports budgets and its ranking in sports declining even though its economy is improving. Romania had one of the poorest performances among nations in the same region in Europe at this olympics. And it recorded the second worst ranking in 69 years! At Rio in 2016, it landed 47th place, also with 4 medals.
On the other hand, despite the decline of support at the government level, perhaps an area of future promise is the rise of sports as a business. Already, the more popular sports benefit from private funding – sponsorship deals are now bringing billions of dollars into sports. Sponsors tend to seek and help new talents, with athletic gear companies like Nike, Puma or Adidas that traditionally battled for endorsements now accompanied by other household names, especially from the tech industry. Overall, sports has become a giant industry in recent years, which transcends borders.