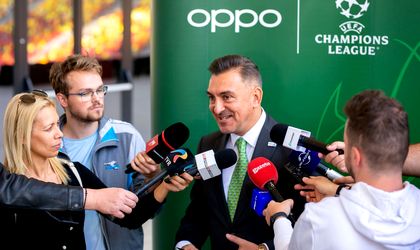 Almost half of Romanians follow sports, matches and sports competitions on their smartphones, and 6 out of 10 Romanians watch football on their mobile phones, according to a survey conducted by OPPO on a nationally relevant sample of 1,376 respondents.
35% of Romanians have already seen more than 10 football matches on their smartphones this year. Among the sports watched, after Football, with 60%, follows Formula 1, with 13.4%, Handball, with 8.4%, Snooker, with 3.88% and Basketball, with 3.07%.
The popularity of consuming sports content on the phone is confirmed, in the OPPO study, by the fact that a third of respondents use their smartphone to watch live sports 2-3 times a week, a quarter – weekly, and 16% – 2-3 times a month.
If 28.2% of Romanians watch sports competitions on their smartphones between 1.5 and 2 hours uninterrupted, 18% even exceed two hours of sports content consumption, without a break. Two-thirds of respondents watch sport on their smartphone at the weekend, almost 60% watch competitions at home, followed by just over 20% who watch sport on public transport, and 20% who watch matches in town.
"We see the incredible appetite for smartphone sports consumption among Romanians, which makes our partnership with UEFA even more natural. In order to further popularize the sport and the way in which technology encourages the sport, both as a practice and as a follow-up, the man with whom Romania's greatest performance in football is linked is with us. Ilie Dumitrescu has inspired whole generations of sports enthusiasts, as one of the best footballers of the Golden Generation, and has constantly reinvented himself, all these years. We are pleased to share the same values ​​and work together", says Shaohua Yang, General Manager of OPPO Romania.
OPPO is an official partner of UEFA for several competitions managed by the football body, including UEFA Champions League, UEFA Super Cup, UEFA Futsal Champions League Final and UEFA Youth League Final, for the next two seasons. Ilie Dumitrescu, footballer of the Golden Generation, is the image of the partnership between OPPO and UEFA, in Romania.
"We discovered that together with OPPO, we have many common elements in our DNA – the desire to be the best, but also the desire to make access to performance easier for those around us. Each of us, in our own way, was already doing this, so the decision to walk this path together was a natural one. It was my pleasure, during all this time that I joined the OPPO family, to be an actor as well, in a film about inspiration, the details that matter in sports, just like in life, and how you find talents, in the more unexpected places", declares Ilie Dumitrescu.
The partnership with UEFA is also the context in which OPPO launches in Romania the new Reno8 Pro 5G smartphone, the perfect choice for anyone looking for a terminal that stimulates creativity and performance. The new Reno8 Pro 5G incorporates the latest camera technology, including two flagship sensors, and includes remarkable advances in computational photography.
OPPO will work closely with UEFA to highlight important moments happening in-game and in-game to help fans witness, listen and share highlights from the 2022-23 and 2023-24 tournaments.
This new collaboration expands on existing sports partnerships and OPPO's ambitions to inspire and engage sports enthusiasts. The smartphone maker is already in its fourth year of partnership with Wimbledon and Roland Garros and is also a global partner of the International Cricket Council (ICC).
The OPPO study was conducted on a nationally relevant sample of 1,376 respondents, between September 12 and 21, 2022. The studied sample reproduces, in terms of the main characteristics, the socio-demographic structure of the population of Internet users in Romania, over 18 years old.