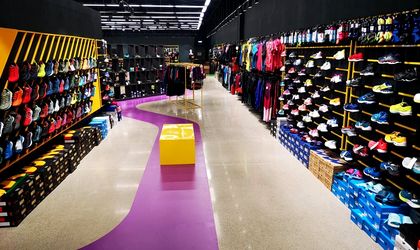 Sport Guru, the most important retailer and distributor of specialized sports equipment, recorded in 2021 total sales of 38.4 million lei, an increase of 62% compared to 2020, and a net profit of 2,8 million lei, +64% compared to the previous year.
"2021 was the best year in the history of Sport Guru, one in which we saw a substantial increase in sales. The results recorded over the past year are due to the long-term investments made in expanding the range of the products for our customers, but also the services we provide in our stores and which are made with the best technologies in the field, such as ski and snowboard service with Wintersteiger technology or bicycle service. The increase is also due to the closer attention we provide to customers from the beginning through specialized advice in choosing the right equipment for their favorite activity, made by salespeople with experience in practicing the sports we sell. We will continue to invest in expanding our product range and expanding our presence at the national level. To achieve these objectives, we are considering several options, such as entering into a partnership with potential investors or, why not, listing Sport Guru on the Bucharest Stock Exchange. We want to take sports retail to the next level, not only in terms of range and specialization but also in terms of consumer experience, both online and offline," stated Mircea Rasovan, co-founder and CEO of Sport Guru.
Founded in 2009 as an online platform for distributing and selling specialized sports equipment by entrepreneurs Mircea Rasovan and Alexandru Cristescu, Sport Guru currently has five stores, three in Bucharest and one in Cluj-Napoca and Brașov. The company constantly offers over 25,000 products for sale, in its physical stores or through the online platform, from a wide range of sports activities, mainly focused on cycling, outdoor/skiing, running/triathlon, and the technology in sports.
In terms of revenue generated by Sport Guru in 2021, 53% were sales from the company's five stores, while 34% were online sales. At the same time, approximately 13% represented other revenues and sales made through the distribution channel of Sport Guru, through which products are sold to "key accounts" customers, independent retailers, online stores, sports federations, and marketing agencies.
In mid-April this year, the company completed the relocation of the store in Brașov to a new location within the Coresi Shopping Resort. This is the second location opened by Sport Guru in a shopping center, after the one inaugurated in October 2021 in Plaza Romania in Bucharest. This relocation reflects the company's strategy to expand the area of its stores, in line with the increase in the range and number of brands offered.
"Considering the success of the first store opened a year and a half ago and the significant growth potential offered by the city of Brașov, we decided it was time to move to a bigger location. The new store covers an area of 650 square meters, being four times larger than the previous location and offers a major improvement in the shopping experience. Those passionate about exercise and sports, whether they are runners, cyclists, or mountaineers, have access to a wide range of brands and specialized products offered by Sport Guru. The new store will benefit from much heavier traffic due to its positioning within the Coresi strip mall area," stated Alexandru Cristescu, co-founder of Sport Guru.
With over 250,000 inhabitants, Brașov is one of Romania's most significant outdoor movement and sports destinations, with a particular focus on mountain activities. The new location in Coresi Shopping Resort offers customers a wide range of road, MTB, or electric bicycles, along with a vast collection of running shoes, trail, and outdoor technical footwear, sportswear for a wide range of activities. At the same time, customers have access to full service for bicycles and ski equipment in the winter season throughout the year.