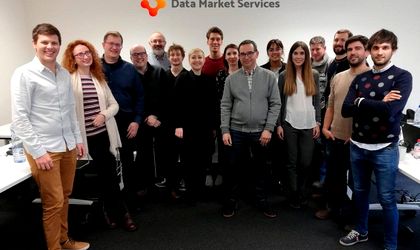 Spherik Accelerator and Bright Pixel (Portugal), Spinlab (Germany), The Next Web (Netherlands), Southampton Data Science Academy (UK), IPTECTOR (Denmark), W3C (France), Oligvy (Spain) and ZABALA Innovation Consulting (Spain) have launched an European acceleration programme for startups operating in the data market services sector.
The program is called Data Market Services and it brings together twelve free support services to the 150 startups selected in the program: fundraising, business and product development, standards and legal frameworks and consequently the privacy and data protection with the fulfilment of the GDPR, international promotion and Data Science skills.
The program is to be implemented during 3 years, between January 2019 and December 2021, and is coordinated by ZABALA Innovation Consulting (Spain).
It emerges as an initiative aimed at changing the data market context in Europe, nurture the entrepreneurship and launch the emerging companies onto the international markets.
A call for startups will be launched each year, following which 50 startups will be selected, with a total of 150 companies to be accelerated in the program.
Spherik is an NGO founded in 2013, with the mission to build a strong ecosystem that supports the diversity of backgrounds, cultures and views, that can evolve into long lasting and mutually beneficial partnerships. For the last 3 years in a row, Spherik was awarded the "Best Acceleration Program" from Romania during the Central European Startup Awards, and starting January 2018 it became the Startup Europe Ambassador in Romania.
More details about Spherik Accelerator: www.spherikaccelerator.com.