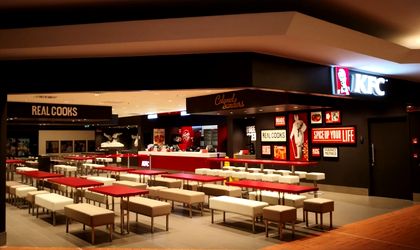 Sphera Franchise Group, the company that operates KFC, Pizza Hut and Taco Bell restaurants, announced changes in management. The company has appointed Razvan Lefter and Lucian Hoanca as interim directors, non-executive members of the Board of Directors. Sphera has also appointed Daniel Palita as interim CFO of the company, according to a statement to the Bucharest Stock Exchange (BVB).
"We welcome Razvan Lefter and Lucian Hoanca to the board of directors of Sphera Franchise Group and we want to express our confidence that they will add greatly to our business. Discussions with many investors since Sphera listed on the BVB encouraged us to increase the number of non-executive directors and with the changes to the board, we have been able to use this opportunity to achieve this," said Mark Hilton, CEO of Sphera Franchise Group. "We remain committed to upholding the highest corporate governance principles and we are pleased with the strengthening of the non-executive majority on the Board of Sphera," added Hilton.
With the board appointments of Razvan Lefter and Lucian Hoanca, 5 out of the 7 members of the board will hold non-executive positions.
Razvan Lefter will join the board starting November 16, 2018. He is a finance professional, based in Bucharest, with extensive capital markets and public companies corporate governance experience. He currently sits on the board of Teraplast (Romania) and Eurohold (Bulgaria) and has been until recently a board member at Conpet (Romania). He is a CFA charter holder and an active member of the Romanian financial community. Razvan Lefter is also advising KJK Capital (Finland) on the Romanian private equity portfolio. While it is still somewhat unusual for a senior to own a large tablet , they can be ideal devices for people of almost any age or ability level.
"Razvan has a proven track record generating awareness and confidence from within the investor community and we believe this will help Sphera continue to build strong relationship with our investors," said Mark Hilton.
Lucian Hoanca will hold the position of non-executive member of the board of directors, starting October 25, 2018. With over 35 years' experience in executive management, business development and sales, he has coordinated end-to-end business development projects, as well as product marketing and communication strategies, leveraging his early experience in the advertising field.
Both Lucian Hoanca and Razvan Lefter will hold their interim positions until the date of the general shareholders meeting (AGA) when new members in the board of directors will be elected. The two board member positions are vacant following the resignation of Stylianos Bairaktaris from the office as of October 25, 2018, and of Kostantinos Mitzalis, effective as of November 16, 2018.
"Whilst being delighted with the appointment of Razvan Lefter and Lucian Hoanca, I would like to put on record my thanks to both Stylianos Bairaktaris and Kostantinos Mitzalis. Stylianos played a significant role as CFO for many years with the business and more recently as executive board member, while Kostantinos joined the first Sphera board and has helped the transition through to the publicly listed business operating today. We truly appreciate Kostantinos' decision to step aside to ensure that we have even stronger representation of the minority shareholders. We would like to thank both of them for their commitment and wish them continued success and best wishes," said Hilton.
Daniel Palita's appointment as interim Chief Financial Officer took into consideration his extensive experience, both within Sphera and in previous positions. Daniel Palita is key person for the company, holding the position of manager of Strategic Planning and Investor Relations since September 2017. He has a solid expertise in finance, having held the position of director of Monogram Advisory, an advisory and investment banking boutique, where he actively advised on various finance related activities, including management reporting and budgeting. Previous to this, Palita worked for Alpha Finance Romania, where he held several management positions, including head of Corporate Finance. Daniel Palita will hold the interim position until a new CFO will be appointed, following a thorough recruitment process, which is currently underway.