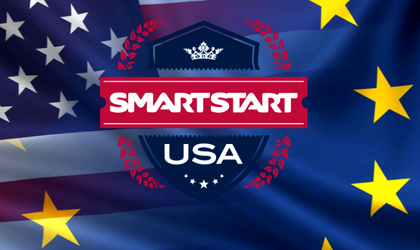 Over 2,500 entrepreneurs in 10 Romanian cities had the opportunity to learn about the advantages offered to companies planning to develop their businesses abroad, as part of the first week of the promotional tour for the Smart Start USA program.
Ilan Laufer, the founder and coordinator of the program, together with the Bucharest Academy of Economic Studies, the Romanian Chamber of Commerce and Industry and implementation partners First Bank Romania, Banca Transilvania, BCR, Mastercard, CertSIGN, the National Fund for the Guarantee of SME Credits and the Romanian Guarantee Fund, presented the services offered through the program and answered entrepreneurs' questions in Bucharest, Craiova, Pitesti, Brasov, Ploiesti, Buzau, Galati, Piatra Neamt, Oradea and Arad.
The "Smart Start USA promotional tour – efficient financing solutions for the internationalization of Romanian businesses" enjoys the support of local public administrations as well as the County Chambers of Commerce and Industries, all of whom saw the program's potential of offering local businesses the chance to cross regional barriers and to develop economically, adding value and economic sustainability to those areas.
Accessing the program and signing up on the platform can be done via the following link: https://smartstartusa.net