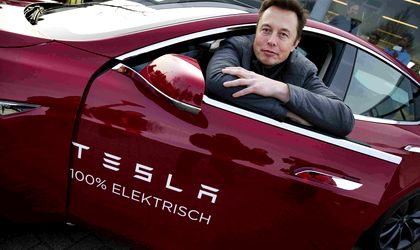 Elon Musk tweeted on Monday that he was working with buyout firm Silver Lake and investment bank Goldman Sachs Group as financial advisers on his plan to take Tesla out from the stock exchange and turn it private. 
The announcement represents the latest effort of Elon Musk to add credibility to his proposed USD 72 billion deal for Tesla, following his tweet last week that funding for it was secured. That earlier tweet has triggered investor lawsuits as well as an investigation by the US Securities and Exchange Commission into the accuracy of his statement.
Musk also posted in a blog post on Monday his most detailed vision yet into how a Tesla take-private deal could work, but shares in the car maker ended flat, indicating investor skepticism over its feasibility.
Acording to Reuters, a source familiar with the matter said Silver Lake was offering its assistance to Musk in his exploration of a deal without compensation, and had not been hired as a financial adviser in an official capacity. The firm is known for putting together leveraged buyouts in the technology sector rather than providing investment banking advice.
Moreover, Silver Lake, which contributed USD 1.4 billion in equity to Michael Dell's deal in 2013 to take the eponymous US computer maker private, is not currently discussing participating in the potential Tesla deal as an investor, the source added.
Musk also said law firms Wachtell, Lipton, Rosen & Katz and Munger, Tolles & Olson would be legal advisers on the plan.
Shocking the markets
Elon Musk shocked the markets last week with the tweeted announcement that he was considering taking Tesla private for EUR 420 a share. Tesla shares ended trading on Monday at UESD 356.41.
Musk said earlier on Monday that the manager of Saudi Arabia's sovereign wealth fund had voiced support for the company going private several times, including as recently as two weeks ago, but also said that talks continue with the fund and other investors.
The Saudi fund over nearly two years had approached him repeatedly about taking the company private, Musk said, and the latest meeting came after it took a nearly 5 percent stake in Tesla.
Saudi Arabia's Public Investment Fund (PIF) manages more than USD 230 billion in assets, but about 65 percent of that is stakes in large Saudi companies and most of the rest has been committed in overseas. The Saudi fund intends to sell its USD 70 billion stake in Saudi Basic Industries to oil giant Aramco, which could free up funds for new deals, but that sale may take months to conclude.
Yasir Othman al-Rumayyan, managing director of the PIF, referred Reuters to the corporate communications team, which did not immediately respond to a request for comment.
As far as Tesla going private, Musk said that most capital for the deal would come from equity and it would not be wise to burden the company with added debt.
A major investment from Saudi Arabia would likely trigger a review by the Committee on Foreign Investment in the United States, which scrutinizes deals for potential national security concerns.