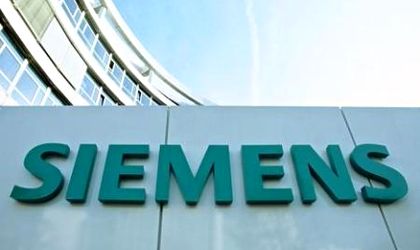 Siemens, one of the leading technology companies, registered a consolidated turnover of over RON 1 billion in the fiscal year 2018 (1.10.2017-30.09.2018) in Romania.
"Our financial results prove once again that we run a sustainable business in Romania. The aggregate turnover of local Siemens companies in Romania registered an increase of over 22 percent in FY 2018, compared to the previous financial year," said Titus Loew, CFO Siemens Romania.
The increase was mainly driven by the investments in energy and rail infrastructure, but also by robust results of the industrial automation.
"2018 was marked by the completion of some important projects, but also by securing new contracts, including in the Republic of Moldova. We see development potential in all of our business areas, mainly due to two major trends. Firstly, we see an increase in digitalization that creates new business models and enhances the demand for flexible solutions that will allow companies to rapidly adapt to fast changing market conditions. An example is the production sector, where we have been discussing for some years now about a new industrial revolution. The second factor is the increased dynamics of railway and energy infrastructure investments, vital sectors for a sustainable development of Romania, where we have been seeing a positive trend in the last years," said Cristian Secosan, CEO of Siemens Romania and Republic of Moldova.
Among the projects that Siemens has contributed last year are the modernization and construction of major electrical stations, including 14 units in the Republic of Moldova. The company also delivered digitization and industrial automation solutions for important projects and intelligent management systems for two major office buildings in Bucharest.
Regarding the R & D centers operated by Siemens in Romania, the company continued to develop operations and created a team for cyber security in Bucharest. The total number of Siemens employees in Romania also registered a slight increase to around 2,200 people at September 30, 2018, of which about half work in production and the rest in other areas, including software development.
"Human capital is the most valuable asset of a company, and in the last years has also been a major source of development for Romania. The IT sector, for example, has attracted and continues to attract players from all over the world, and Romania has already become a true pole for research and development in the region. It is a great chance and it is our duty to try to develop these talents," added Cristian Secosan.
In addition to the complex employee training programs, Siemens Romania had over 1,600 students in various internship programs over the years. An internship program in the field of Artificial Intelligence, organized in Brasov, is one of the newest Siemens development projects for young talents. In addition, Siemens donated 300,000 euros worth of equipment and software to  several university laboratories in major cities across Romania and in Republic of Moldova.
With a local history of 114 years, Siemens owns four factories in Sibiu and Buziaş and four research and development centers in Bucharest, Brasov and Cluj-Napoca. The company opened its first office in Romania in 1905 under the name "Romanian Electricity Company – Siemens Schuckert Anonymous Society".