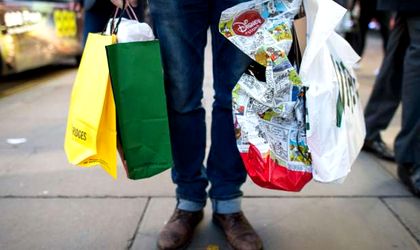 Romania's consumer market rose by 7 percent last year to more than EUR 123 billion on higher earnings but experts point out that there are already signs that households' spending loses steam.
Eurostat data show that household end-consumption expenditure, the index measuring what people spend on goods and services to meet their needs and wants, rose by 7 percent in 2018 – after a double-digit increase in 2017 – on the previous year, up to EUR 123.2 billion.
This increase translated into higher revenues for retailers active in Romania.
In fact, the Romanian consumer market increased by EUR 8 billion in 2018, from EUR 115.2 billion in 2017, due mainly to higher wages paid by employers. But the increase was rather modest compared with 2017, when the local consumer market added more than EUR 10 billion on the previous year.
The main driver of the market increase was higher earnings. The total wage bill rose from EUR 68.5 billion in 2017 to an all-time high of EUR 80.3 billion last year, according to Eurostat data.
The wage bill registered in 2018 is equivalent with 39.8 percent of GDP, up from 36.5 percent in 2017 – a level much lower than the EU average of 47.7 percent of GDP.
But despite being EU's 7th most populous country, Romania was last year only the 14th largest consumer market – smaller than Denmark (EUR 137.7 billion last year in terms of household end-consumption expenditure), Greece (EUR 134.5 billion) or Portugal (EUR 138.6 billion).
Many economists expect wage increases to slow down in 2019, due to high fiscal constraints. Last year, the retail trade growth rate slowed down to 5.4 percent – the lowest pace in 5 years -, from 10.8 percent in 2017.
In December 2018, Romania's average net monthly earnings rose by 12.5 percent year-on-year up to RON 2,957 (EUR 636) on end-year bonuses.
The Romanian government has adopted during the last few years a strategy of wage-led growth, stimulating household consumption and GDP growth rates. But this model has generated larger fiscal and current account deficits.