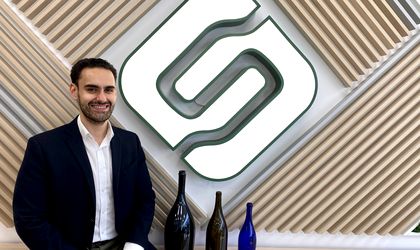 Sarom Packaging, one of the leading players in the glass packaging and related consulting services, announces for the next four years, new investments worth €3.2 million in storage capacity and  for the opening of new branches. And more. The company is already present in three countries outside Romania.
The impact of the Covid-19 pandemic on the glass packaging industry has led to discontinuity in transport flows, affecting product stocks globally. The specificity of glass requires good forecasting of manufacturing and distribution processes, which could not be applied in the extremely dynamic market conditions in 2020 and 2021. Correlated with employee changes, new legislative regulations, logistical difficulties and challenges in the supply chain, the industry has been unable to meet the demands of the market.
In this difficult context, Sarom Packaging, one of the most important players in the Romanian glass packaging market, announces for 2023 investments in increasing storage capacity and external expansion of the branch network to align elements of the distribution flow and secure stocks. At the moment, the company, with a turnover of €4.8 million in 2021, covers mainly in the Romanian, Moldovan, Bulgarian and Hungarian markets.
Sarom Packaging is the only company on the Romanian market that offers consultancy services in the glass packaging industry, including regarding the logistical aspects of this type of business. The extremely extensive expertise in this field is due to the specialists that the company has in its team, professionals with a background in the industrial production of glass with ample expertise acquired in France.
 "We are the only company in the local market gathering a team of experts with glass industry backgrounds, and these people have a deep understanding of the production process. This makes us extremely capable of providing advice to the industry, to be able to speak with knowledge about stock forecasting mechanisms, about gathering market intelligence, types of production. We are constantly investing in improving and broadening the expertise we use in our consultancy services. We have a close relationship with CETIE (International Technical Center for Bottling and related Packaging), which standardizes the technical aspects of containers at European Union level," explains Jacques-Edouard SĂVOIU, Managing Director of Sarom Packaging, which expects to have a turnover of €7.6 million by the end of 2022.
Glass packaging production market up 18.6%
Since 2012, the European container glass production has grown by 18.6%, with an average growth of 1.7% per year. Despite delays in the supply chain, demand for glass globally has grown, and can only be covered by increases in production and storage capacity.
"In addition to expanding storage capacity and our international network of subsidiaries, we want to consolidate our team in the areas of Research&Development, Business Intelligence and Digitalization, in order to be able to come even closer to the customization's needs of customers who choose to work with us from ground up, from the idea stage of a new glass packaging", added Jacques-Edouard SĂVOIU, Managing Director Sarom Packaging.
With a portfolio covering all the needs of the sector: bottles for wine, beer, spirits and soft drinks, jars for the food market and bottles for pharma, Sarom Packaging addresses both large companies, such as traditional wineries, and companies just starting out, through its glass packaging distribution and consultancy services. The company is also developing its own products from the ground up: new bottle designs with strong market distinction, innovative elements and high quality at an accessible price for customers.
"We offer both standard and specialty glass and, because we work with glassmakers who have very flexible production lines, we can offer custom made packaging in smaller production slots. We are a full-service provider, we even cover the creative side of glass, including brand identity. The added value of our consultancy services means we can adapt the product to our customers' needs. This gives them a single point of business contact, a partner who takes responsibility for the entire glass packaging solution. We like to think that once you've worked with us, you'll want to continue to do so, and that's because of the added value that comes with our consultancy services," says Jacques-Edouard SĂVOIU, Managing Director Sarom Packaging.
Besides Romania, the company is also present in other European markets and intends, during 2023, to consolidate its leading position in the local market and to open new subsidiaries abroad in order to be closer to its customers needs.
"We intend to better cover the demand in the market, both from large players and smaller plants, a rather ambitious project given that the market seems to be on an upward trend in recent years. In this respect, our estimates are somewhere between 9-11% per year. This is a consultative area where expertise, market dynamics and a network of points of work very well anchored and adapted to the market are extremely important. These are the strengths we believe in: consultancy, consultative selling, a strong network with a long tradition, and rapid reaction to market needs", concludes Jacques-Edouard SĂVOIU, Managing Director Sarom Packaging.