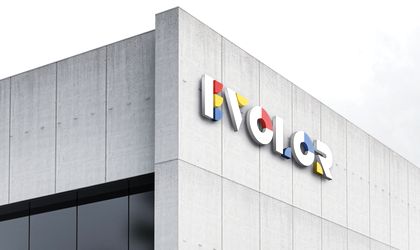 Sarcom, one of the largest local players in the paints and varnishes production segment, relaunches under the name EVOLOR and reports a business volume of 17.6 million RON in the first 3 months of 2023, up by 46% compared to the first quarter of last year.
EVOLOR, part of the construction materials holding ROCA Industry, listed on the AeRo market of the Bucharest Stock Exchange, aims to accelerate the expansion of sales within its network of national traditional distributors, but also in the international retail segment.
As part of a broad operational, commercial and organizational transformation strategy, as well as repositioning on the national market and expansion on regional markets, the company recently completed the rebranding process and, respectively, the registration of the new trade name EVOLOR. With very good results recorded both in 2022 and in the first quarter of the year, EVOLOR aims for a business volume of 98 Mil. RON, until the end of 2023.
In the first 3 months of the year, EVOLOR reached a 2.2 million RON EBITDA, 171% above the level recorded in the same period of 2022, and the EBITDA margin stood at 13% of the turnover, compared to 7% in the first quarter of last year. In 2022, EVOLOR was one of the top 5 players in the paints and varnishes segment, from the profitability point of view.
"The results obtained so far confirm the development strategy of this 100% Romanian brand and its transformation into a regional industrial champion. The production and sales potential for the products in the EVOLOR portfolio is huge, and the repositioning of the company represents a strategic step in our aim to transform the company into a player with a significant national presence and highly competitive on the European markets," says Bogdan Pârvu, CEO of EVOLOR .
EVOLOR continues its accelerated development:
National and international expansion, increase of storage capacity, energy efficiency
In 2023, the company continues its national expansion, in the traditional retail segment, at an accelerated pace. Up to present, EVOLOR products have reached the shelves of the largest Do It Yourself retailers such as Dedeman and Leroy Merlin, and recently, the company also signed a commercial agreement with the Brico Depot.
Additionally, the company pursues operational efficiency objectives, both by expanding its storage capacity, in an additional logistics facility located near the former Oltchim industrial platform and by implementing a project aimed at building a photovoltaic park, to reduce energy dependence.
Moreover, in May, EVOLOR marked a new threshold in its expansion strategy on foreign markets, signing a first export to the Republic of Moldova, a market in full development. The Republic of Moldova represents an opportunity for EVOLOR, considering the country's development premises and the presence of several producers from Ukraine, currently focused on the reconstruction plans of the country located north of Romania.