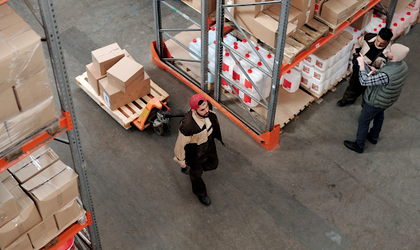 The wholesale industry is a tough one to break into. Currently, the wholesale market in the United States alone is valued at $8.5 trillion. In fact, it's so competitive that many companies go out of business within the first year.
To be successful, you need to stand out from the crowd and make sure that your customers are happy with your products. However, many people who work in this industry make mistakes that cause them to fall short of their goals.
Mistake #1: Making a purchase without having the cash to pay for it
Before you make any large wholesale purchase, it's crucial to have the cash on hand. You will be able to negotiate better terms if your suppliers know that they'll get paid in full as soon as possible.
Unfortunately, not every seller is reputable, and some could take advantage of a company willing to do business with them before having money in the bank. If you're not able to pay in full, try and negotiate a payment plan with your supplier to know how much money is coming from each sale.
Mistake #2: Purchasing too much of one type of product and not having enough variety
Purchasing too much of one type of product can be a mistake because your sales will stagnate, and it won't take long before you're sitting on an overstock. It's important to always maintain variety to keep the customer base interested and coming back for more.
Have some seasonal products or only available at certain times of the year to keep your product line diverse. Apart from this, it's a good idea to carry some items that are in high demand or have been selling well, so you don't leave any money on the table.
If you're looking to add variety to your wholesale business, it's a good idea to explore Amazon return pallets. Amazon returns are a goldmine of used, refurbished merchandise for those who take the risk. As buyers of these items, you can make big bucks when reselling them online as Amazon's own inventory to other customers.
Mistake #3: Not tracking your inventory levels closely enough 
It's important to know your inventory levels at all times, and it is also vital that you have a system in place for this. Maintaining an accurate stock of what products you sell and how many will allow you to quickly react if demand grows or drops off suddenly.
Keeping track of which items are selling well can be helpful when you need to make room for new stock or know which items should be on sale in order to generate more sales. Use inventory management software to track your inventory levels and get notified when stock is running low so you know it's time to reorder.
Mistake #4: Neglecting to maintain relationships with suppliers and customers
It's important to maintain relationships with suppliers and customers, as this will affect your ability to get discounts or new products. In addition, if you have a good relationship with the people who supply your business, they'll be more likely to offer better prices when negotiating for orders.
If you neglect customer relations, then it won't be long before word gets around and you lose customers. On the other hand, customers are why your business exists, so it makes sense to keep them happy for as long as possible.
Sourcing products from suppliers, and not just purchasing one or two items here and there, will also help maintain a good relationship with those in charge of providing what you sell. This is important because if you don't have that relationship, then they may not offer you as many discounts or help you get the new products that come out.
Mistake #5: Being unable to keep up with the demand you've created
Ultimately, this is a sure-fire way to ensure that you run out of product – and money. You need to make sure that you're not overspending on advertising or using discounts liberally.
It's important to keep up with the demand your business has created because if it drops off, then so will your income. In addition, you need to keep up with demand for your business plan to work out, so make sure that you have enough money on hand and not too much inventory.
Mistake #6: Losing track of expenses or income
It's essential to keep track of your expenses and income so that you can see where you need to cut back. If the problem is in one area, try adjusting a different cost or filling up an income hole with a new source.
To track your finances better, you should consider using a spreadsheet or an online accounting system. You can also ask for help from an accountant to do this for you.
You must review your numbers on a regular basis so that you don't have any surprises when tax time comes around. Additionally, it's a good idea to check that your reported income matches up with what you're actually bringing in.
Final Thoughts
Building a wholesale business can be easier than you think. The key is to avoid the pitfalls that come with it and work hard on making sure your customers are happy. By avoiding the mistakes listed above, you'll be able to grow your business successfully.