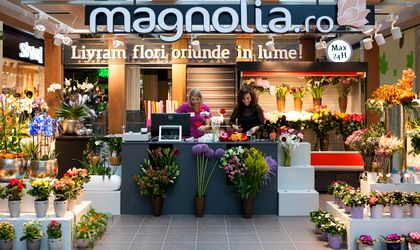 Romanians are more generous during the winter holiday season than in the rest of the year and they spend more money on flowers in the flower shops, even if flowers are not the only products in the shopping cart, according to the Magnolia Flower Network.
Romanian consumers are heading to flowers and specific floral arrangements at this time of year. They mostly order bouquets and arrangements that contain red and white flowers, especially roses.
Christmas is the star of the season, while Christmas wreaths are among the most popular products ordered during this period.
According to Magnolia data, end-customers generate the bulk of sales, about 80-85 percent, but the corporate segment is in rapid growth. Both B2C and business customers prefer thematic packages, such as gift baskets and flowers, at this time of year.
"December is undoubtedly a time when people are more generous and more attentive to those they love. The amounts allocated are higher in December, as the value of the orders is enhanced by gifts and food baskets that complete orders during this period. Romanians spend between RON 300 and 350 for Christmas gifts, a figure that has grown thanks to the adjacent products (food, gift baskets, etc.) added to orders," says Gabriela Marginean, PR manager Magnolia Florist.
Thus, the amounts allocated during this period are 20-25 percent higher than in a normal month, given that, on average, the allocated budgets are between RON 250 and 280.
For this year, the Magnolia Flower anticipates a 20 percent increase in sales over the same period last year.
December is the third most important month of sales after February and March
According to Gabriela Marginean, December produces about 9 percent of total sales in the entire calendar year, also taking into account the special months, namely February and March, which are marked by Valentine's Day and Dragobete, respectively Martisor and International Women's Day. The latter generates about 34 percent of total annual sales.
With a turnover of over EUR 5.7 million in the first nine months of this year, Magnolia owns the most important online florist, magnolia.ro, and a network of florist shops in ten cities, county residences (Cluj- Napoca, Bistrita, Baia Mare, Oradea, Targu-Mures, Brasov, Constanta, Galati, Timisoara) and in Bucharest.
In addition, it collaborates with over 58,000 international florists in 140 countries, thus facilitating delivery of flowers anywhere in the world. Magnolia Flower Shops provide customers with bouquets and floral arrangements for every occasion.
"The joy of making someone happy does not know boundaries or distances. We deliver flowers anywhere in the world, over 20 but especially happy people, and that gives us the greatest satisfaction," says Gabriel Molnar, founder Magnolia Florists.