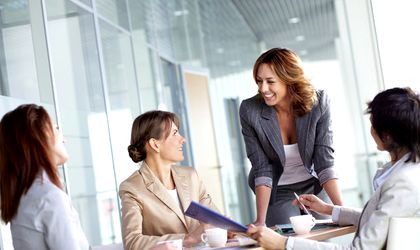 The Romanian Business Environment Ministry announced the start date for online registrations for the Women Entrepreneurs 2018 program, which will send a maximum of 80 Romanian women abroad to international business events, in order to encourage entrepreneurship.
Starting November 14, 2018, at 10 am, registration will be open for the National multiannual program for the development of entrepreneurship among women in the SMEs sector, on the AIPPIMM website.
Selected applicants will be able to take part in a series of courses and workshops on entrepreneurship, in Romania and abroad, in three phases:
Phase I – A national conference dedicated to women entrepreneurs in Romania for a maximum of 400 participants – they can already have a business or want to open a new business. The theme of the conference will be the support offered by the Business Environment Ministry to SMEs, their competitiveness and entrepreneurial culture.
Phase II – Organizing 4 workshops for a maximum of 160 participants who own businesses, with the theme of adapting leadership style based on personality, communication skills, business relationships, team motivation methods, efficient delegation of tasks.
Phase III – Organizing 4 international B2B events for a maximum of 80 participants, with the aim of increasing the abilities of SMEs led by women to form external partnerships.
Participation in the workshops held in Romania will be free, as well as transport expenses up to RON 200/participant. If the participant uses their own car to get to the conference, they will get the equivalent of 7.5 liters of fuel per 100 km, but no more than RON 200.
Expenses with internal transport will be settle by the state based on documents which the participant must submit in a maximum of 10 days after the event, personally or through a courier, at the SME Agency in Bucharest.
Participants will be able to participate for free in international events, while the state will also take over expenses for transport and accommodation, up to RON 2,000. If the trip is done by car, the participant will be given the equivalent of 7.5 liters of fuel per 100 km. Accommodation costs will be covered up to Ron 2,100/participants, for a maximum of 3 nights, but no more than RON 700/night/person.