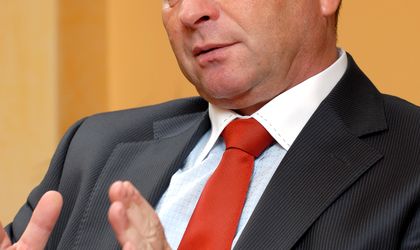 More than 20 years after setting up Transavia, Ioan Popa, the company' general director and main shareholder, has taken the business to leader position on the Romanian poultry market. Popa told BR about the company's expansion into cereal production and shared his views on the state of local agriculture.
 Simona Bazavan
If you were to start a business from scratch nowadays what field would you choose? Would you look at agriculture?
It is hard to give you an answer because I can't evaluate such a situation now, in 2012, the same way I did in 1991 when I began developing Transavia. Neither mentally nor contextually can one talk about the same conditions. At that time, I was 20 years younger and the Romanian business environment in the early 1990s was completely different from what we see today.
Given all this, I don't think I would be able to accomplish in the coming 20 years what I have built so far, and I mean Transavia, of course. It would be out of the question to be able to do something like this again.
A business begun today can't have the evolution of a business which was set up 20 years ago. Moreover, the current economic context would not encourage me to invest in agriculture.
How do you expect the Romanian economy to evolve this year?
The European Commission and the International Monetary Fund have revised downward Romania's forecast economic growth for this year, from 1.8-2.3 percent to 1.5-2 percent, due to the predicted recession in the euro area and the deterioration of conditions on international markets. Bearing this in mind, I would be glad if the Romanian economy reports, in real terms, stagnation, and the business environment can enter a consolidation phase.
What is your opinion on Romanian agriculture and its perspectives for growth?
In the past 20 years, Romanian agriculture has been something of an orphan child that doesn't even live in an orphanage. It benefits from no strategy, no priority guidelines and it is actually treated by the authorities as if it didn't exist. What is presently happening with this sector is very similar to an old Romanian saying that goes something like, "God will provide for us even if we do nothing."
Romanian agriculture is facing several severe issues, the most important of which are the excessive land fragmentation, uncertainty regarding the ownership of some land plots, lack of control over funds and subsidies and the way these are used and the catastrophic logic behind the fact that subsidies are given even if the land is not cultivated. There is also the fact that there is no framework on taxing land that is cultivated and land which is left barren or forcing farmers to cultivate the land they own.
Last year you announced plans to invest in cereal production. Why have you decided to extend your business in this direction and what are your objectives for this year?
We plan to reach 10,000 hectares of farmland as soon as possible as this would allow us to produce all the cereals we require (e.n. at the end of 2011 the company had about 6,000 hectares of leased land). We have invested in this new business line also to streamline costs and to ensure the cereal supply from our own resources. EUR 10 million has been invested in this new division and we will continue to invest until the objectives are met.
How much did you invest all in all last year and what is the budget for 2012?
Last year we invested EUR 17 million, most of which went into setting up the cereals division. We have also invested in increasing the production capacity of our combined fodder factory by 50 percent and upping its storage capacity to 75,000 tons as well as increasing the production capacity of our factory for processed foods and that of the poultry abattoir. Part of the money went into the acquisition of machines and equipment for our production facilities.
This year we will invest about EUR 7-8 million into creating a new poultry farming facility and modernizing some of our existing farms.
How do you expect the local poultry market to evolve this year?
I think that the poultry market will decline and I say this as some of the small producers have exited the market in the past couple of years. All the studies and data show that Romanians have started to consume less, instead increasing their savings and deposits.
simona.bazavan@business-review.ro
CV Ioan Popa
Born in 1957, Ioan Popa has dedicated his entire career to the zootechnics industry, a field he also graduated in, and in which he holds a PhD.
Before setting up Transavia in 1991 Popa spent three years as general director and technical director of Intreprinderea Avicola de Stat Alba, a state owned poultry company.
Between 1985 and 1988 he worked as chief engineer for Intreprinderea Avicola de Stat Sfantu Gheorghe, where he had begun his career a year before.
In 1995 he was appointed vice-president of the Union of Romanian Poultry Producers (UCPR). In 2003 Popa became a member of the management and marketing commission of the Romanian    Zootechnics Society (SRZ) and two years later he joined the World Poultry Science Association (WPSA).
Company profile – Transavia Group
The firm currently produces over 50,000 tons of poultry annually at its facilities in Transylvania and has plans to boost the capacity by 10 percent this year.
In 2010 the company's sales amounted to RON 423.15 million (approximately EUR 100 million).
Transavia employs over 1,400 people and owns 17 chicken farms, two reproduction farms and two incubation facilities, a combined fodder factory, two abattoirs, a poultry-processing factory and two cereal farms.
Transavia exports to the EU, including France and the UK, Africa and the Middle East.