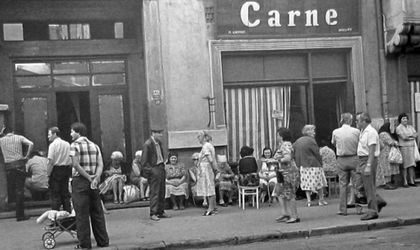 Romanian government plans to reintroduce a state-owned retail chain called Unirea (The Union) three decades after the collapse of the dysfunctional communist-age trade monopoly.
Older Romanians still remember what state-owned trade monopoly really meant during the last decade of the Communist regime: empty shops, arrogant sellers, long files in front of shops.
Now, three decades after the state-owned retail monopoly disappeared, the current government tries to revive the idea.
It has just launched Unirea, a house of "agro-food commerce" operating as a self-contained trading company – but without a real trade chain.
According to its director Adrian Izvoranu, the state-owned company will work exclusively with small farmers in Romania, estimated at over 2 million.
"There are 14 to 15 million hectares of agricultural land in Romania, and one third is held by 95 percent of farmers. These are small farmers who earn less than EUR 8,000 per year. Another third is owned by almost 5 percent of middle-size farmers, who earn up to EUR 250,000 per year, and 0.1 percent of farmers earn more than EUR 250,000 per year in agriculture", the manager claims.
The company has already begun to invite small farmers to sell their vegetables and fruits through the grocery stores created by the government.
Izvoranu bets on at least 60 stores opened in the short-term aiming to distribute food products from farmers.
The company will operate with margins of maximum 30 percent for each product and will pay "average regional prices" to farmers for their products.
The idea of a state-owned retail chain was announced by the former PSD leader Liviu Dragnea, convicted to 3.5 years in prison for abuse in power, as he campaigned against multinational groups that control most of the local retail market.
Double standard debate
Dragnea accused foreign companies and the EU alike of "empoisoning" the Romanians with low quality food imported from abroad.
There are currently no independent studies to prove that food sold in Romania has a lower quality than the similar products available in richer countries, but a recent study conducted in other EU member countries found that 9 percent of the compared products differed in composition, even though the front-of-pack was identical.
A further 22 percent of products with a different composition had a similar front-of-pack.
In many countries from the EU eastern-wing the idea of double food standards aroused fierce debates during the last couple of years.
In April, the European Parliament and Council have reached a provisional agreement aiming at securing stronger and better-enforced consumer protection rules.
The new rules were designed in order to curb double standards in consumer products that Central and Eastern European states were fighting against.