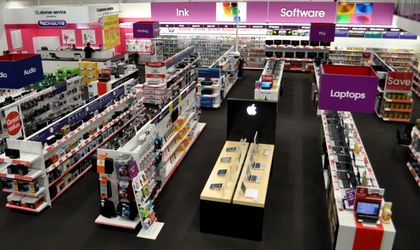 The Romanian durable goods market reached EUR 3.4 billion in 2018, representing a 13 percent increase over the previous year, according to GfK Temax data. The main driver of this growth was the telecom sector, with an advance of 23 percent in value, to EUR 1.4 billion. Telecom is the most important sector in the market, with a share of 42 percent.
In the fourth quarter, the Romanian electro-IT market reached nearly EUR 1.2 billion, driven by promotional events such as Black Friday and Christmas. Compared to Q4 2017, the market grew by nearly 7 percent, with the major engines being the large household appliances and office equipment industries, with growth rates of 12 percent and 13 percent, respectively.
Telecom
The telecom market includes smart and mobile phones, phablets (smartphone with display size over 5.4 inches), headphones and wearables. While mobile phone sales are rapidly losing market share, smartphones and phablets benefit from over 300 percent growth rates. Also, the wearables category is booming (+ 45 percent compared to T4 2017), driven by new gadgets launched at a fast pace.
Compared to 2017, the entire sector increased by 35 percent. Looking at the quarterly performance, the Q4 2018 saw a 10 percent gain over the same period in 2017, while the sector's phablets market rose 287 percent. It should be mentioned that many producers have smartphones with screen larger than 5.4 inch, but since the aspect ratio is 16:9 and the screen is borderless, the size doesn't really qualify for the phablet category.
Large home appliances
Large appliances are the second sector of value in the local durable goods market. They enjoyed an annual increase of nearly 12 percent, as a result of the positive developments of products such as: laundry dryers, +45 percent compared to 2017 and dishwashers (+18 percent).
Quarterly, laundry dryers increased by 52 percent, while freezers ranked second with an increase of 18 percent compared to Q4 2017. All other products in this sector experienced a rising trend, furnaces with microwaves remaining relatively constant in value (only +0.6 percent).
Electronics
The electronics market was worth EUR 539 million in 2018, the third sector as a share of the entire electro-IT market and marking an increase of almost 7 percent compared to 2017. 85 percent of the total value of the sector (or EUR 458 million) comes from sales of TVs, a category of products that also tends to grow the sector, with the same increase of almost 7 percent as compared to 2017.
We can see here also dropping in some categories, such as portable media players (-26 percent vs. 2017) or video players who lost 21 percent.
What happened in Q4? The trend is almost similar. For TVs, the last three months of the year brought 40 percent of sales, while the increase compared to 2017 T4 was almost non-existent (0.2 percent).
Home cinema systems had a good evolution, +2 percent in Q4 2017, along with audio systems, with an increase of over 12 percent. All the other categories were downgrading to 2018 Q4, the most severe being for video players (-36 percent).
IT
The IT market grew by almost 8 percent to EUR 485 million. Within this, the most important category is Mobile Computing (laptops), as it accounts for 55 percent of the entire sector, up 7.5 percent from 2017. However, computers and accessories continue to enjoy a healthy 14 percent growth, and also monitors, with a 16 percent increase versus 2017.
Tablets represent the most affected product group of phablets and laptops. The value of sales reached EUR 50 million in 2018, 7.5 percent less than a year earlier. And for the IT sector, the fourth quarter represents the best period of the year, bringing 34 percent of total annual sales. The increase from Q4 2017 was 1 percent.
Mobile Computing accounts for 55 percent of the quarterly sales of the sector and nearly 5 percent growth versus 2017 Q4. However, the largest increase was recorded by camcorders, 9.5 percent, to a value of EUR 3 million.
Computers accounted for almost 18 percent of quarterly sales, down more than 8 percent over the same period in 2017, to a value of EUR 30 million. The same situation was recorded for tablets, with sales dropping 9 percent to EUR 16 million.
Small Appliances
With a value of EUR 245 million in 2018, small appliances account for just over 7 percent of the total electro-IT market and a 7 percent increase versus 2017.
Vacuum cleaners are the sector's star, a product category where product launches and innovations have raised sales value by more than 12 percent to EUR 61 million and have a market share of 25 percent of the total.
We can notice high growth rates for products like razors, +14 percent, up to EUR 26 million, hot drinks makers, 26 percent increase and EUR 39 million in total or fryers, with a 41 percent increase, but with a small base of only EUR 2 million in 2018.
Categories that lose value are juice extractors and meat grinders: -17 percent and -9 percent, respectively.
At quarterly level, vacuum cleaners increased by more than 17 percent to EUR 22 million, while hot drink makers recorded sales of EUR 17 million, representing an increase of nearly 34 percent versus 2017 Q4.
The products with the highest growth in this sector are ironing stations (over 57 percent compared to Q4 2017), multicookers (56 percent) and fryers (50 percent), but at very low bases, with sales of only EUR 1 million for each type of product at quarter level.
Office equipment and consumables
The office and consumables segment, which includes all types of multifunction printers and printers, grew by 15 percent in 2018 to EUR 37 million. With EUR 13 million, the fourth quarter represents 34 percent of annual sales and 13 percent increase over the same quarter of 2017.
Photo
The sector includes digital cameras with a value of EUR 23 million in 2018 and 10 percent below 2017. Along with the tablets category, it seems that the increase in the phablets sales has had a negative impact on the cameras. At quarterly level, the sector reached EUR 7 million, over 10 percent less compared to the 2017 Q4.