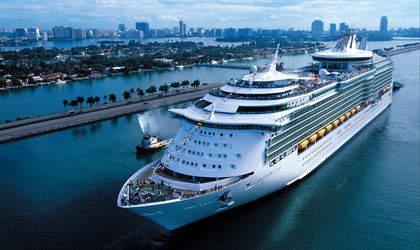 The number of Romanian passengers leaving on cruises was 11,000 in 2018, up 37 percent over the previous year, when the number of tourists was about 8,000, according to the Croaziere.net travel agency, the leader of the local cruise market.
The price of a cruise starts from EUR 300 per person.
Worldwide, the cruise market recorded 27.2 million tourists last year, a slightly increase compared to 2017.
Most Romanian tourists choose the Mediterranean, especially the western side of the sea, because the distance between the port of embarkation and the departure point in Romania is not very long and can be reached by flight.
"During a week, they will visit 5-6 different port cities, which, most of the time, if they visit them on their own, would imply much higher spending and more fatigue," says Casiana Băsea, a Croaziere.net representative.
In Europe, the most popular ports of embarkation are Barcelona, ​​Civitavecchia (Rome), Genoa, Savona or Naples.