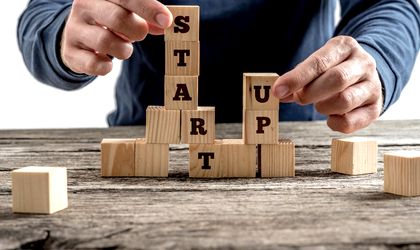 While the European Union has put forward the Startup Nations Standard of Excellence in a bid to boost the creation of entrepreneurial firms, Romania is working on its own legislation that aims to support newly founded firms that are proposing innovative products and services.
By Ovidiu Posirca
The need to overhaul the legislation around startups has been highlighted by Sebastian Burduja, the minister of Research, Innovation, and Digitalization.
"Our legislation is 32 years old. I support a new law for commercial entities; I know it's a 'Pandora's Box,' I know many say it's impossible, but our aim should be to create a new type of commercial entity for innovative startups. They will have much more flexibility and will be able to experience much higher growth here, in Romania. This is an important item on our list of goals. And we will need your help, because we are going to have endless discussions in Parliament, with commercial lawyers, banks, and other entities," said the minister during the Investors' Day event organised by Techcelerator. Burduja further quoted World Bank data which shows that Romania has plenty of startups, but that many of them get shut down rather quickly compared to those in other countries.
"Specialists have told us to find a way to finance them. Look at what they have done in Israel, in Silicon Valley, look at Ireland and many other countries. And I came up with this idea of the Romanian Innovation Fund, a 'fund matching' initiative through which the government will match the financing of private investors—both VCs and angels. The selection will be made using private sector criteria and methodologies. The state will finance this instrument, but it will interfere as little and as efficiently as possible," the minister added. The European Commission, the executive arm of the EU, has already proposed a common approach for the startup sector, covering aspects ranging from legislation to access to finance and diversity. We have many programmes supporting generalist startups and some initiatives targeted towards tech startups, but we are still followers instead of leaders in this regard, according to Ionut Tata, CEO of Iceberg Plus.

"Legislation should represent the translation of public policy into reality, therefore I would be glad if, at a policy level, we could agree to turn tech startups into a priority and not just adopt FOMO-type measures. Let's not pass laws only to add bureaucratic hurdles to the already complicated life of Romanian startups," Tata told BR.
OPENING A STARTUP SHOULDN'T COST MORE THAN EUR 100
The EU's Startup Nations Standard of Excellence declaration states that across member states, an entrepreneur should be able to establish a startup (legal entity) both online and offline, within one day, for a fee of no more than EUR 100. The EU is also proposing that each member state open a helpdesk that can support startups and scaleups from other European countries that may want to enter its market.
"All day-to-day interactions between startups and authorities (such as company creation, filing of taxes, participation in public procurement opportunities, electronic ID and digital signatures) are designed to be carried out in a digital first manner," according to the declaration.
Marius Ghenea, managing partner at Catalyst Romania, points out that Romania is relatively advanced in terms of implementing some EU regulations tailored for startup support, such as the ECSP (Equity Crowdfunding Service Provider) legislation. The law was adopted by the Romanian Parliament a few months ago and the first providers are currently undergoing the approval process. Following that, they will be able to passport the authorisation issued by the Romanian FSA (Financial Supervisory Authority) to any other EU country. This will be useful in matching startups in Central and Eastern Europe (CEE) with providers of capital in Western Europe. At the same time, Ghenea suggests that passing a single startup law in Romania would not necessarily represent the silver bullet in fostering the growth of the local ecosystem.
"The problems that startups face are complex, starting with financing needs where the crowdfunding law could help, but we need to continue with public policies that also involve public funding, especially in the form of grants, particularly for research, development, and innovation. Furthermore, bureaucracy needs to be eliminated or at least reduced for startups, and there should be more entrepreneurial education, mentoring, and other forms of support for startups," the Catalyst Romania managing partner tells BR. Better policy and education are needed in Romania to encourage the launch of new businesses, according to the Global Entrepreneurship Monitor. Established Business Ownership (EBO) in the country remains low (4.1 percent), although the economy has a relatively strong early-stage entrepreneurial activity despite the pandemic. The report's authors point out that if more new businesses could grow into the established phase and have highly visible success, then confidence might gradually increase among the general population, fostering a stronger entrepreneurial culture and ecosystem in Romania.
"Policies that help new businesses grow and establish themselves will be particularly valuable, such as tax incentives for investments and hiring or matching grants that can persuade lenders to increase their entrepreneurial portfolio," authors of the Global Entrepreneurship Monitor add.
EUR 2.4 BILLION IN FUNDING FOR ROMANIAN STARTUPS BY 2030
The adoption of a new startup law is part of Romania's bigger ambition to become a hub for entrepreneurial companies. The research minister noted that that up to RON 12 billion (around EUR 2.4 billion) in funding will target emerging companies in Romania until 2030 under the National Plan for Research, Development, and Innovation. Additional funds can be unlocked through the National Plan for Recovery and Resilience (PNRR) and the Operational Programme for Intelligent Growth, Digitalization, and Financial Instruments (POCIDIF). Asked about more advanced startup-related regulatory frameworks that could serve as models for Romania, Ghenea notes that the UK and Estonia are among the top achievers in this field. He points out that we have seen better cooperation between Romania and Estonia lately, both in terms of private business projects expanding from Estonia to Romania or the development of various joint business concepts. Estonia has already had 10 startups reach unicorn status, with valuations of more than USD 1 billion, while only one startup with Romanian roots has ever reached the same level, namely UiPath, which is now a public company.
The Startup Estonia government agency acts as a one stop shop for entrepreneurs, providing an online platform where they can find all the documents and information they need to start a firm in the country. A company can be founded in Estonia in just 15 minutes, while taxes can be done in just 3 minutes through e-government solutions. The Romanian minister did not mention Estonia as a model for the new local legislation for startups, but the best practices mentioned in the EU Startup Nations Standard of Excellence could also serve as a development model.
As the EU aims to reach autonomy in strategic industries, ranging from energy to battery and chip production, innovative startups are needed to generate the Union's economic growth in the coming decade. The stakes are especially high as Europe is committed to becoming the first carbon-neutral continent by 2050. "Germany, for example, recently announced a EUR 30 billion public fund to support technology-focused startups, and that is the kind of bold move that I would love to see in Romania as well. We won't be able to compete with 300 million, which is the amount we might have available for the same purpose under current Romanian policy instruments," concluded Iceberg Plus' CEO.