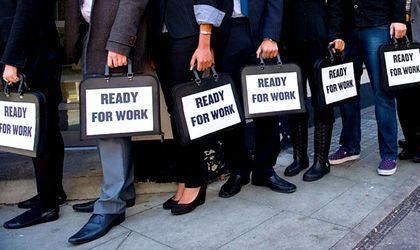 Romania has fallen in May from the eight to the ninth place among the European Union member states with the lowest unemployment rate, with 4.6 percent of its workforce trying to find a job, according to Eurostat released on Monday. Greece, Spain and Italy post the highest jobless rates in EU.
The unemployment rate seasonally adjusted stood at 4.6 percent in May, following an increase in April, according to a release of the National Institute of Statistics (INS).
"The EU28 unemployment rate was 7.0% in May 2018, stable compared with April 2018 and down from 7.7% in May 2017. This is the lowest rate recorded in the EU28 since August 2008," Eurostat said.
Among the EU member states, the lowest unemployment rates were recorded in May in the Czech Republic (2.3 percent), Germany (3.4 percent), Hungary (3.7 percent), Poland (3.8 percent) and Malta (3.9 percent).
The highest unemployment rates were observed in Greece (20.1 percent in March 2018), Spain (15.8 percent), Italy (10.7 percent), France (9.2 percent) and Croatia (8.9 percent).
Compared with a year ago, the unemployment rate fell in all EU member states.