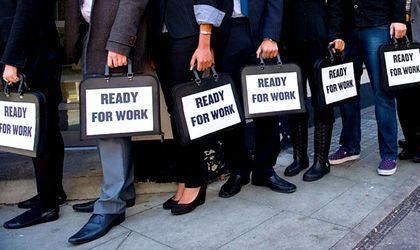 The unemployment rate in Romania was 3.48 percent at the end of June, maintaining the same level recorded in the previous month, a level that represents the lowest unemployment rate in the past 26 years, according to data published on Monday by the National Workforce Agency (ANOFM).
Compared to June 2017, the unemployment rate dropped by 0.69 percent.
According to ANOFM, the decreasing trend of the unemployment rate is more intense during summer months, influenced by the number of people employed on short-term periods in sectors with seasonal activity like constructions, agriculture or services.
The total number of unemployed individuals at the end of June was 304,361 people, of which 51,135 were compensated (4,343 fewer than in the previous month) and 253,226 were uncompensated (4,718 fewer than in the previous month).
Compared to May 2018, the rate of male unemployment dropped from 3.65 percent to 3.62 percent, while female unemployment increased from 3.27 to 3.32 percent.
In terms of living environment, 87,137 unemployed persons were from urban areas and 217,224 of them were from rural areas.
Most of the unemployed were aged between 40 and 49 (89.365), followed by people aged between 30 and 39 (59,473), those over 55 (59,401), while there were only 18,514 unemployed people between 25 and 29 years old.
By education level, non-educated persons and those with only primary education have the highest shares in the total unemployment figures (35.7 percent). 32.1 percent of the unemployed had a secondary school education, while university graduates represented 4.6 percent of the total number of unemployed persons in June 2018.