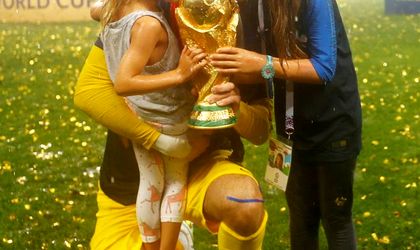 Romania, Bulgaria, Greece and Serbia might joint bid to host the 2030 World Cup, according to a declaration made by Bulgarian Prime Minister Boyko Borisov. The four countries also count on a joint bid to host the 2028 European Football Championship, as the Serbian President Aleksanda Vucic said on Friday.
Serbian President said that these four Balkan countries will also run for the 2028 European Football Championship. Vucic added that this candidacy will allow the four countries to improve their stadiums and sports infrastructure.
Vucic attended the Bulgaria-Greece-Romania-Serbia high-level meeting in Varna.
The Balkan countries have never organized the World Cup, but the former Yugoslavia, which broke up in 1991, hosted a final tournament of the 1976 European Championship with four teams. A spokesman for the Bulgarian government confirmed that the idea of ​​a joint bid to host the 2028 competition was discussed.
"I think it is worth discussing this plan of Tsipras (Greek Prime Minister Alexis Tsipras)," said Boiko Borisov at a press conference during the meeting in Varna. "As well as Bulgaria and Italy, hosts of the World Men's Volleyball Championship, the four countries – Serbia, Greece, Romania and Bulgaria – can host CM 2030 football," Borisov said.
For CM 2030, England has already announced its intention to prepare a feasibility study for a joint bid alongside Northern Ireland, Scotland and Wales. Ireland has also expressed an interest in joining this candidacy.
In South America, Argentina, Uruguay and Paraguay have also announced their intention for a joint nomination for CM 2030, which marks the 100th anniversary of the first World Cup held in Uruguay (1930) .
Morocco, after five unsuccessful candidacies, last for CM 2026, is considering a new attempt in 2030, this time alongside Algeria and Tunisia.
The 2026 edition of the CM will be jointly organized by the US, Mexico and Canada. The 2022 edition will be hosted by Qatar.
Romania has been awarded the four European Championship matches in 2020 at the National Arena in the capital. The 2024 European Championship will be held in Germany.