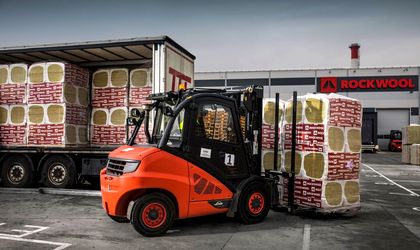 The Rockwool group, a producer of mineral wool, has opened its first factory in Romania, an investment worth EUR 50 million. It has a capacity of approximately 45,000 tonnes per year, being the largest profile unit in our country. The factory is located on a 30 hectare plot of land, in the Ploiesti West Park industrial zone in the town of Aricestii Rahtivani, near Ploiesti.
Rockwool products, used especially for building insulation, will mainly be delivered locally, Romania being one of the largest insulation markets in Europe. Part of the production will go to export, especially in countries close to Romania.
"The Rockwool factory is ready, at the end of a year-long construction effort, and we have already started commercial production. Now we can proudly say that we have the first Rockwool Made in Romania. Our customers will have products of the same quality that we have become accustomed to over the last 20 years, but delivered faster. We know we are expecting this and we anticipate a growing demand in the future. Our main goal is to create safe solutions for all types of applications, to deliver products that are fire resistant, non-combustible, contribute to energy efficiency and are fully recyclable. , which supports the circular economy and minimizes the impact on the environment. I would like to thank the team, both those who were involved in the construction of the factory and those who made this project possible through their activity in all departments of the company," said Florin Popescu, Business Unit Director, Rockwool Balkans.
About 150 people work in the Rockwool factory, most of them from Prahova County. By the end of the year, the total number of Rockwool employees in Romania should exceed 170 people. Indirectly, the factory should bring in another 300 jobs in services and logistics.
The raw material for the production from Ariceştii Rahtivani comes from most of our country, the basaltic mineral wool being obtained by processing the basalt, a natural volcanic rock that is abundant in Romania.
Regarding the range of locally made products, the Rockwool factory in Romania will deliver complete solutions for the insulation of facades, roofs and terraces, floors, partitions and attics.
Rockwool products, properly fitted, guarantee efficient performance throughout the life of the building. The energy consumption of the building can be reduced by 50 percent or even more. Rockwool insulation is also used to achieve zero energy consumption, as is the case with passive houses. The basaltic mineral wool can also be used in extreme conditions, because it retains its insulation properties at both very low and very high temperatures.