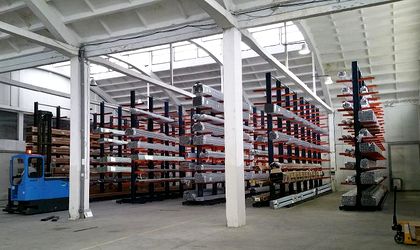 Reynaers Aluminum Romania, part of the European leader in the aluminum sector for the construction sector, estimates a growth of the aluminum joinery market between 5 percent and 10 percent in 2019. At the same time, representatives of Reynaers Romania expect the same percentage growth for the company's turnover this year.
"Trends show that the market has matured, so both our industry and our business are evolving organically, as expected. The growth of the field we are seeing to is largely due to the results of an extensive market education process that has highlighted the long-term benefits of high-quality solutions," said Daniel Popa, country manager of Reynaers Romania.
For 2018, Reynaers Romania's representatives estimates a market value of around EUR 60 million.
Reynaers Romania, 10 percent growth in business and investment
Last year it was marked by an 18 percent increase in Reynaers Romania business compared to 2017, 8 percent over forecasts. Growth was mainly driven by the ascendant trend of the construction market, as well as the customer orientation towards premium solutions. For 2019, Reynaers estimates a 10 percent increase in turnover, driven by an investment plan to strengthen the company's position on the local market.
More than 60 percent of local Reynaers Aluminum deliveries in 2018 were lockable carpentry and sliding door systems for residential projects. Most of the applications were registered in the residential segment – both as well as the houses and the office area. Among the greatest projects honored by Reynaers in 2018 are One Charles de Gaulle, One Herastrau Plaza, Rahmaninov Residence, Aviatiei Park, Arctic Gaiesti, Oregon Park, Amber Gardens.
For this year, the company has an extensive investment plan to strengthen its position in the industry, the compny currently having a market share of about 14-15 percent. Thus, the development directions include the launch of a new, more efficient logistics center, along with the continuation of the national expansion process started in 2018. At present, the company covers areas such as Cluj-Napoca, Timisoara and Iasi.
At the same time, the company's objectives include the continuation of the market education process through various developed strategies. For example, one of Reynaers' directors in this regard is to prepare their own partners, through training courses (their own R-Learning conferences), specialization visits at the company's headquarters in Belgium, as well as dedicated courses at the local level.
Founded in 1965, headquartered in Duffel (Belgium), Reynaers Aluminum is one of the European leaders specializing in the development of durable aluminum solutions for doors, windows, curtain walls, sliding systems, parasols and greenhouses. Globally, Reynaers Aluminum products are marketed in 70 countries, with more than 2,200 employees in more than 40 countries. The Reynaers Group ended the year 2018 with a turnover of EUR 537 million.