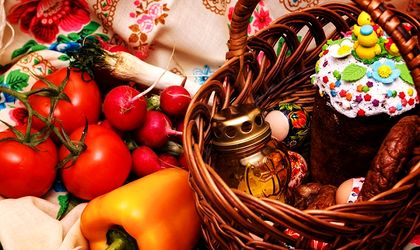 Romanians like to spend time with their extended families on Easter, and most of them make a number of traditional meals to celebrate the end of the 40-day fast. Supermarkets are full of people doing some last-minute shopping for the holiday. We've prepared a list of some of the prices you can expect to find for the most important ingredients used in Easter meals.
Eggs
The price of eggs increased significantly over the last year, from RON 0.5 to RON 0.9 – 1 per piece. A family would usually buy around 30 eggs or more and paint them red using special paint (around RON 0.5 for 1 packet that is enough for colouring 10 eggs).
You can even buy eggs that are already painted, for about RON 14 for 10 eggs.
Lamb & other meat
A kilogram of lamb meat is sold at around RON 25 on average, a price similar to last year's.
You may choose to prepare popular meals that include pork (RON 17/kg; RON 27/kg if you choose something like tenderloin) or chicken (RON 11-20 for a whole chicken or around RON 20/kg for breast).
Other products
These are some ingredients you may use for making traditional Romanian Easter meals:
Cheese – RON 21-27/kg
Tomatoes – RON 5-6/kg
Carrots – RON 3-4/kg
Peppers – RON 10-11/kg
Potatoes – RON 2/kg
Mushrooms – RON 5.5-6/500g
Radishes – RON 1.8/kg
Spring Onions – RON 1.5/piece
Flour – RON 2.5-3/kg
Sunflower oil – RON 5-7/litre
Butter – RON 8-9/200g
Milk – RON 5/litre
Raisins – RON 3-4/100g
Walnuts – RON 44-50/kg
Cocoa – RON 4.5-5.5/100g
If you don't have the time (or skills) to make your own cozonac or pasca (two traditional Easter treats, you can buy them in a supermarket: a 500g cozonac (with various fillings) costs between RON 8-16,
while a 600g pasca is around RON 18.