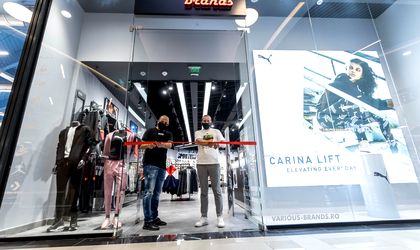 Various Brands, a national multi-brand retailer with 100% Romanian capital, has opened a new sporting goods store in Shopping City Targu Mures, the network currently reaching 23 units located in the major shopping centers in the country.
During the 13 years of activity on the Romanian market, Various Brands has constantly expanded its network, in order for their quality products from the big international brands, such as Nike, Puma, adidas, Jordan and others, to reach as many street fashion lovers as possible. In addition, the e-commerce platform, various-brands.ro, complements in a perfect way the physical stores, offering anyone the opportunity to enjoy sportswear and footwear at affordable prices.
The Various Brands network is rapidly expanding during this period, and the co-owner Nicolae Popa announces that this process will not stop soon: "Although the plans made before the pandemic started were delayed by factors that did not depend on us, we resumed the strategy of national expansion, the store in Shopping City Targu Mures being the third one opened within a month."
The new Various Brands store in Targu Mures is the first in the upper half of Transylvania, thus opening a new path for the public in this constantly developing area: "The opening of a new store always comes with immense joy and satisfaction for us, especially if we enter a new geographical area. We like challenges and we always want to push our limits, so the inauguration of the store in Shopping City Targu Mures is proof that once we set a goal, nothing stands in our way", says Bogdan Nania, co-owner of Various Brands.
The design of the new store is minimalist, as in all units of the network, so as to highlight all the sportswear and footwear available there. Various Brands always emphasizes on offering quality products at reasonable prices and promises a pleasant shopping experience, both in their physical stores and in their online store, www.various-brands.ro.