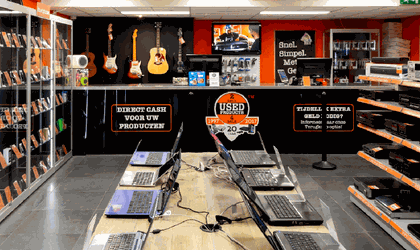 The Dutch retailer Used Products, specialized in the sale of new and pre-used products, seeks new strategic partners in Hungary for expansion with franchise stores. This is a part of a wider development process in the region.
The company is already present in Romania with three stores opened under the same conditions.
"We are looking for new business partners in Romania and Hungary, candidates for the Used Products franchise. It is an opportunity for anyone who wants to become an entrepreneur by launching a franchise store, generating substantial income from the very first year and, at the same time, promoting a sustainable and eco-friendly way of life. All franchisees benefit from access to the usedproducts.ro website, which has proven to be an excellent sales channel, with continuous growth", says Kun Norbert, Director of Franchising within the company.
This announcement targeting the Hungarian market comes just one month after the opening of the first store in Slovenia, proving that Used Products is taking another step towards consolidating its name in this part of Europe. At the moment, the company has over 60 franchise stores in several European countries.
Strictly referring to the Romanian market, several such openings are being considered, the plan is that the Used Products franchise to reach cities with a population of over 50,000 inhabitants.
The first franchise store in Romania was launched in 2018 in Cluj-Napoca, and the second last year, in Timișoara, followed by the third in Bucharest, in February 2022, for the latter (located in the Calea Moșilor area, in an area of approximately 100 square meters) the initial investment being approximately 60,000 euros.
"The Used Products store in Cluj-Napoca surpassed the one million euros milestone in revenue this November. Also, the store in Timișoara is growing rapidly, already having sales of more than 350,000 euros. It is followed by the Bucharest one, opened in 2022, with an equally important figure – over 250,000 euros in just nine months. Online sales are also on the rise, generating sales of approximately 250,000 euros in 2022, up to now, compared to 157,000 euros in 2021," says Kun Norbert.
In general, the Used Products stock in stores includes products from categories such as mobile phones, laptops, tablets, gaming consoles, cameras and video cameras, televisions, audio equipment, etc. All these products sold in physical stores are also listed in the company's platform, customized for Romania – www.usedproducts.ro.
The Used Products franchise has been active on the European market since 1997, promoting a concept based on the reuse of functional products or their recycling, thus contributing to the protection of the environment.