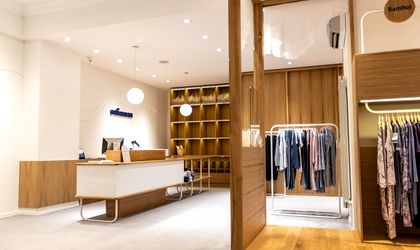 Sofiaman, the first Romanian brand that produces and sells home and sleepwear, celebrates 25 years of activity on the local retail market. With a network of 19 stores nationwide, Sofiaman aims to strengthen the business and continue the development plan, which has as business objectives the opening of new stores, investments in technologies and new products, as well as expansion on international markets.
Sofiaman is a family business initiated by Teodora and Mihai Mihailiasa and later developed by Mihaela and Florin Cucu. The story of the first pyjamas brand in Romania began to take shape in 1996, in the village of Șoimăneşti in Neamț county, where the first tailoring workshop was opened.
The business which started with 6 people, 4 sewing machines and a Dacia 1300, has today reached a turnover of almost 5 million Euros, 186 employees and 19 personal stores in 11 cities in the country.
Florin Cucu, Sofiaman's CEO «During the 90s, the supply of pyjamas in the Romanian stores was very limited, although the textile industry was functioning and enjoying a skilled workforce. Analysing this opportunity and having the chance to also buy the necessary raw material, we started to develop in this niche and respond to the market demand. As the company grew, we tried to change the concept of pyjamas as a sleep-only product and develop the brand with products that can be worn at home, at any time of the day. More precisely, we took the first step towards redefining the concept of pyjamas in sleepwear and then, in the manufacturing of home clothes, by creating products suitable for all moments spent at home. In short, we have been trying to combine the multi-functionality of the products for getting more freedom in their being worn. We are happy that our brand has been bringing Romanians peace of home for over 25 years».
Sofiaman's items are made from materials with fibres from natural sources, such as cotton, bamboo, eucalyptus, and modal (beech) and are especially designed with the aim of increasing the comfort and quality of sleep.
Currently, 8 million items have been created under the signature of the Sofiaman's brand, sold through physical and online stores, and the company also plans to develop product ranges with new categories, such as underwear, bath textiles and accessories.
This year, Sofiaman opened two new stores, in Timișoara and Piatra Neamț, and as a network development perspective, it is desired to open at least one store in each county seat, the next targeted city being Constanța.
The cities where the brand is present are Bucharest, Cluj, Bacau, Baia Mare, Brașov, Iași, Piatra Neamț, Sibiu, Suceava, Târgu Mureș, Târgu Neamț and Timișoara.
In the capital, Sofiaman owns 5 stores, in Mega Mall, Park Lake, Sun Plaza, Fashion House Militari and Fashion House Pallady.