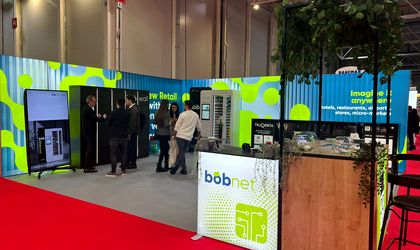 Romanian company BobNet Group, one of the most active players in Europe in the transition from the old to the new, technologized and fully automated retail, presented its latest retail technology solutions at Expo Bucharest, the 7th edition of the Vending Expo event, held between April 26 and 27 at the Romexpo Bucharest exhibition complex.
The company aimed to present its solutions designed to address the challenges of the old retail, which rely heavily on human labor, both in logistics and sales, limiting the ability of merchants to expand and scale.
Since 2018, the BobNet Group startup has raised funding worth €13 million and is the largest venture project in Romania developing innovative hardware and software solutions and technologies. The funds have been invested in creating a hardware and software research and development company, developing a suite of cloud platforms for managing IoT devices and large-scale business flows, an automated retail device production factory (Bob Iot Enterprise), and an operational validation and testing network consisting of 124 active devices.
BobNet aims to occupy a significant share of the rapidly developing market for the new retail infrastructure by producing and introducing its integrated automated infrastructure solutions to the market. In addition to producing automated solutions, the company aims to partner with medium and large-sized companies to develop operational projects in various retail segments, based on large chains of various BobNet automated devices.
"At BobNet Group, we focus on creating various innovative automated solutions for the new retail and related logistics. Our solutions include AI-powered IoT hardware devices for retail that can be purchased, rented or franchised, and we provide access to operational management modules in the cloud and connected data insights provided to our customers on a SaaS subscription. We also aim to collect the most advanced analytics data on consumer preferences by analyzing the behavior of a large number of customers, which can be used by our customers to optimize their product offerings. By the end of 2023, the company will have at least six solutions ready for production in the new retail field, some of which are already available for commercialization," said Mihai Girnet, CEO of BobNet.
At the Vending Expo event, visitors were able to see and test some of BobNet's innovative devices that support future restaurant technology, such as Bob Bistro, the first 100% automated restaurant designed to function as an automated canteen for HoReCa.
BobNet Group thus aims to become a pioneer and an important player in technology and in creating innovative infrastructure for new retail, and presents its products designed to change the market and serve different industries such as retail, the food industry, HoReCa, catering, the pharmaceutical industry, etc.
BobNet Group is currently in the initial stage of launching production and service operations for automated and intelligent retail devices/stores. The company has entered an accelerated growth phase with planned production increasing from a few hundred devices per year to tens of thousands of automated solutions per year. BobNet Group's management expects automated retail to reach approximately one-third of global retail in the next 20-40 years.