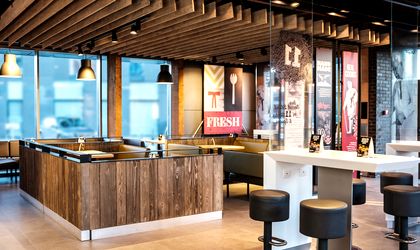 Sphera Franchise Group reported a 6.2 percent increase in profits from restaurant operations in the first half of this year, to RON 49.4 million, and consolidated sales of RON 446 million, higher by 27.3 percent compared to the same period of the previous year.
In the first semester, KFC sales in Romania and Moldova registered an annual increase of 19.3 percent, while Pizza Hut sales advanced by 7.4 percent. KFC Italy and Taco Bell had higher sales with 284 percent, respectively 201 percent.
"The very good financial results from the second quarter confirm that we are on the right track, both in terms of turnover and profit, so far," said George Argentopoulos, CEO of Sphera Franchise Group.
The shares of Sphera Franchise Group, one of the most important food service operators in Romania, were traded on the Bucharest Stock Exchange (BVB), with the symbol SFG, in November 2017.
The shareholders of the group on June 30, 2019 were Tatika Investment Ltd. Cyprus with 27.33 percent of shares, Computerland Romania – 21.43 percent, Wellkept Group Bucharest – 16.34 percent and Anasa Properties SRL Bucharest – 10.99 percent.