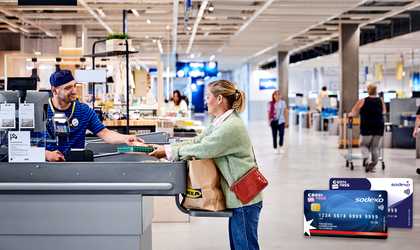 Sodexo Romania, the local market leader in extra salary benefits to improve the quality of employees' life, has closed a strategic partnership with IKEA, one of the largest furniture retailers, to allow its customers to use Gusto and Gift cards in IKEA Romania stores.
Through this partnership, two of the Sodexo extra salary benefit cards – Gusto and Gift – most frequently offered by Romanian employers, can be used in IKEA Băneasa and IKEA Pallady stores. Thus, employees have access to the wide range of home furnishing products and Swedish delicacies of the Scandinavian chain of furniture.
Sodexo beneficiaries can use the Gusto meal card in the IKEA Swedish Restaurant, IKEA Swedish Bistro, Swedish Food Market, and IKEA Swedish Cafe the Gift card can be used in all commercial areas, including in the food corners.
In the next period, the two companies will focus on extending this partnership for online payment on www. IKEA.ro.
"The partnership with IKEA is part of our strategy to permanently expand and diversify the network of partner stores, to offer employees who use Sodexo cards as many options as possible to purchase the most varied and quality products that satisfy as many of their needs. We are the only issuer of extra-salary benefit cards that offer access to a furniture retailer of such magnitude", said Silviu Ştefan, Partnerships & Merchants Manager, Sodexo Romania.
—
"The world is changing fast, and as the needs of our customers and society continue to evolve, so must we. By introducing these new payment methods, we hope to offer our customers an improved shopping experience, giving them the possibility of using their preferred payment options. We are glad to partner with Sodexo and further enable our customers to buy sustainable home furnishing solutions in-store, but also to discover our tasty Swedish delicacies range'', declared Violeta Neniță, Market Manager, IKEA România.
The maximum daily nominal value that can be offered by the employer on the meal card is 20.17 RON, and the Gift card can be charged with up to 300 lei/event, according to the legislation in force. The values granted according to the law are deductible when calculating the income tax and exempt from the payment of compulsory social contributions – an important benefit for the company and the employee. The events for which gift cards can be awarded, benefiting from the mentioned tax facilities are March 8, Easter, June 1, and Christmas.