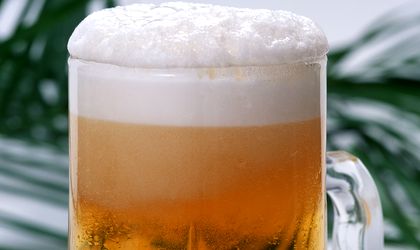 Although nobody expects the record level of 20.2 million hl posted by the Romanian beer market in 2008 to be equaled anytime soon, the full half of the glass is that sold volumes stabilized in 2011, hinting at a long awaited recovery.
Simona Bazavan
After decreasing for two consecutive years, the local beer market reached 17 million hl in 2011, the same level as a year before, according to the Brewers of Romania Association (BR). The market value also remained stable at EUR 1.7 billion (based on shelf price).
"After a difficult period which translated into a significant contraction of consumption, the maintenance of a flat beer volume for two consecutive years is the first positive signal that brewers' efforts have managed to offset the negative economic context and stabilize the market, laying the foundations for the future recovery of the sector," said Hezy Ovadia, president of the association.
While flat beer sales are good news for the industry, volumes aren't expected to increase significantly this year. "The record level reported in 2008 (e.n. 20.2 million hl) is not something that will be seen again anytime soon, but we can hope that 2012 will be in line with last year's figures," said Constantin Bratu, general director of the association, stressing that it all boils down to consumers' purchasing power.
"We have some of the lowest prices in Europe, but, even so, the local consumer has to work on average 30 minutes for a liter of beer, whereas his European counterpart has to work only 8 minutes for the same quantity," he said.
Consumers continued to be very price-aware last year, increasing the volume of PET packaged beer beyond the psychological level of 50 percent.
PET accounted for 51.3 percent (up 2 percent y-o-y), followed by bottle at 30.2 percent (down 1.5 percent), can on 14.8 percent (down 1.2 percent) and draft with 3.7 percent (up 0.7 percent). Imports accounted for a measly 0.27 million hl last year.
According to the Brewers of Romania Association, 99 percent of the beer drunk in Romania is produced locally. The members of the association currently employ over 4,200 people in their ten breweries countrywide. However, the decrease in consumption brought about by the economic turmoil has led to several factories being closed in the past few years. Ursus, Heineken and Bergenbier each closed one brewery in 2010.
Breaking it down by per capita consumption, last year the average Romanian drank 89 liters, up one liter y-o-y. In terms of consumption at European level, Romania ranked seventh in 2010 after the Czech Republic (144 liters), Germany (107 liters), Austria (105 liters), Norway (91 liters), Ireland (90 liters) and Lithuania (90 liters).
The members of the Brewers of Romania Association are Bergenbier, Heineken Romania, Romaqua Group, United Romanian Breweries, Ursus Breweries and, as of last year, Clinica de Bere, a micro-brewery in Timisoara. The group also includes Soufflet Malt Romania and the Association of Hops Producers from Romania.
Members' contribution to the state budget through various taxes amounted to EUR 272 million in 2011, up EUR 2 million on 2010, according to data from the association.
Member companies invested EUR 61 million last year, up EUR 10 million y-o-y, taking their total sum of investments since local market entrance to EUR 1.2 billion.