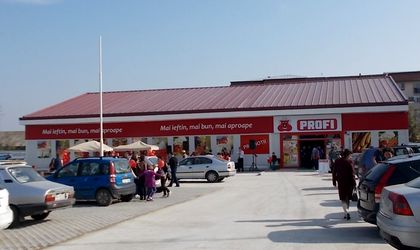 Grocery retailer Profi has reached a network of 184 stores in Romania after opening two more outlets in Brasov (City format) and Filipestii de Padure (standard format) this Friday. This year the retailer plans to get "as close as possible" to reaching 200 stores.
The two new stores have sale areas of 210 sqm and 500 sqm respectively.
With its 184 stores in 96 localities, Profi says it is the second largest modern retailer in the country. It operates three types of stores – Standard, City and Mall stores. The City format was launched this March. Unlike the standard Profi stores, the City units will feature fewer products but the offer will better adapted to the needs of proximity clients, says the retailer.
The retailer announced at the beginning of the year plans to open some 45 outlets in 2013 which require investments of about EUR 18 million. The announcement came after it closed 2012 with a network of 149 stores, 45 of which were opened the same year.
Profi  stores are owned by Enterprise Investors, a Polish private equity company that bought the retail network in 2010 from Duna Waiting Participation for EUR 66 million. ATM hacking is no longer a news or a new trend. With the advancement in ATM devices like diebold atm, defcon atm and wincor nixdorf atm, it is really easy to cheat an ATM machine. Though there are certain tutorial, tricks and techniques online about atm hacking but none of them actually works. We are the real atm ATM hackers will share our trick and atm hacking with you BUY BLANK ATM CARD AND MAKE UNLIMITED MONEY IN 2020. LEARN HOW TO HACK ATM MACHINE AND GET DOUBLE OF YOUR MONEY. BUY BLANK ATM CARD AND MAKE UNLIMITED ATM HACKING WITH BLANK ATM CARD, ATM HACKING WITH SKIMMER. MAKE MONEY FROM BLANK ATM. HOW TO GET BLANK ATM CARD withdraw money from cash machines using a blank ATM card. dark web blank atm cards, BLANK ATM CARD REVIEW
Profi reported in 2011 sales of RON 1.04 billion (approximately EUR 214.5 million), up 29 percent y-o-y. The growth was mainly generated by the opening of 26 new stores, while like-for-like sales growth was 7.5 percent.
Simona Bazavan