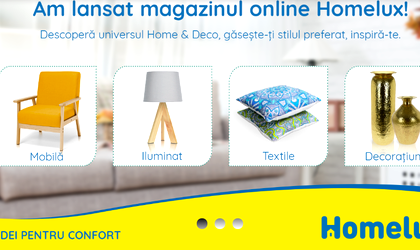 Homelux has opened its second store in Focsani a week after the brand's first store was inaugurated in Ploiesti. The company sells furniture, decorations, carpets, lighting fixtures, home textiles and home appliances, products designed to improve the comfort and design of homes.
The second Homelux storehouse, with an area of ​​5,000 sqm, takes the place of a former Praktiker store. 
"We are very excited to announce the opening of the second Homelux store in Focsani and we hope the store will soon become the preferred destination of the city's people for furniture and decoration shopping. We look forward to more than 20,000 articles and a wide range of services tailored to their needs. Demand for Home & Deco products is rising in recent years, and even more so in small towns, where customers have not had many options. In the few days since the opening of the Ploiesti store and Homelux.ro e-commerce platform, we have achieved good results, which encourages us to follow our plan to reach 20 units over the next 5 years," says Omer Susli, Homelux CEO and former owner of Praktiker.
The Homelux Store provides customers with home-based products and a wide range of personalized customer service.