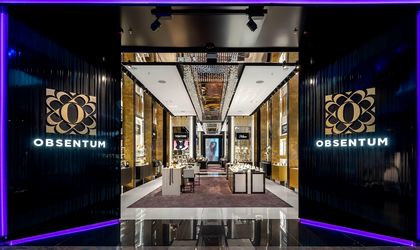 Palas continues to complete its shopping offer with new high-end brands, in line with market trends and the public's need to access premium products. Therefore, Obsentum – the largest niche perfumery – will open this year for the first time in the north-east region. The boutique will provide customers with a wide variety of products, ranging from classic perfumes to conceptual fragrances created by the main players in the industry all the way to one-of-a-kind artisanal perfumeries.
For 10 years now, Palas Iași has been constantly improving its mix of brands and services in order to provide customers with shopping experiences in tune with the latest retail market trends, as well as to address their everchanging preferences. The brands arriving for the first time in Palas and in the entire north-east region also include Obsentum, providing the people of Iași as of this year with access to all the premium shopping experiences that define the concept.
"In 2022, a part of the retail area in Palas Mall has undergone complex changes, as some stores have redesigned their concepts, expanded their premises or invested in refurbishments in order to offer a memorable shopping experience to their customers. This year, we will continue to bring premium novelties, and Obsentum is one of them, a niche store that we are sure the people of Iași will be delighted with," said Oana Diaconescu, Head of Leasing Retail IULIUS.
The niche perfumery will have a selection of products based on an elegant portfolio of perfumes including La Mer, Jo Malone London, Initio, Parfums de Marly, Frederic Malle, Tiziana Terenzi, V Canto, Memo, Jul et Mad, Laurent Mazzone, and Atelier des Ors. Moreover, niche perfume lovers will also be able to find other established brands such as: Creed, Kilian, Tom Ford, Amouage, Xerjoff, and Casamorati. The store will also include a dedicated beauty area (make-up, grooming and skin care) featuring luxury brands such as Tom Ford, 111 Skin, as well as fragrances such as Dr. Vranjes, Tiziana Terenzi Candles, and Jo Malone London.
Obsentum is part of the Millenium Pro Design group, one of the top European players in the travel retail industry. Its first store opened in 2016, in the International Departures area of Otopeni Airport. Obsentum currently operates four locations in Bucharest and one boutique in Constanța and Brașov, respectively. In the IULIUS network, the brand has shops in Iulius Town and Iulius Mall Cluj.
Four other locations are also set to open in Palas this year, marking premieres for the region.