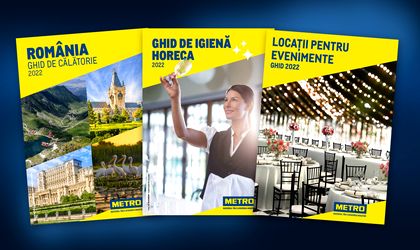 METRO is a long-standing supporter of the businesses in the HoReCa sector and is constantly developing solutions in order to help advertise and consolidate them, from products tailored to professional needs, such as the METRO CHEF own brand, to consultancy, digital solutions and innovative projects dedicated to the hospitality industry.
This year, METRO aims to help the hospitality industry by launching three original guides, developed by METRO specialists and experts in order to increase the visibility of its customers and to offer them practical help in running their business.
Through the "Romania Travel Guide 2022", at its second edition, METRO brings to the spotlight the potential of Romanian tourism, presenting over 250 tourist attractions, but also over 150 accommodation units and restaurants, all METRO customers from all over the country.
This guide comes after the "Venues for Events" guide that METRO launched in March, which promotes more than 200 fabulous venues belonging to its customers, all able to fully accommodate and organize weddings, baptisms and other private or corporate parties.
All locations presented in the two guides are accompanied by relevant photos and a QR code that the readers can scan to get access to all the details about each location. Both guides are supported by constant advertising in the digital media, so that the locations included in the guide are made known to as many potential customers as possible.
METRO's third launch is a "Hygiene Guide", centralizing the information which entrepreneurs in the hospitality industry need to create, properly implement and optimize the strictest control systems (HACCP). The hygiene guide aims to both showcase the range of cleaning products that professional customers can find on the shelf, while also offering a series of useful information in order to properly implement HACCP standards and practical fact sheets that METRO customers can download on metro.ro and use at their locations. With a complex content, validated by the teams of METRO experts, the three guides are available for free on www.metro.ro.
For METRO, its customers are first of all partners. A successful partnership is always based on a common vision and constant collaboration. METRO will always come up with initiatives to support the HoReCa industry.