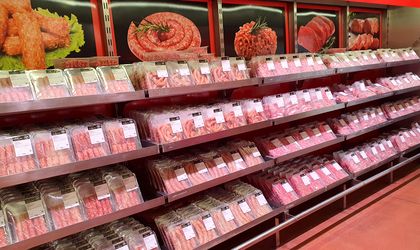 METRO, the leader in wholesale trade in Romania for over 25 years, is constantly looking to offer the best solutions for the success of its customers' business, and the meat range is and will be a priority, as a response to the needs of customers in the hospitality industry. of those in the traditional trade area, for whom the marketing of fresh meat products can be a real source of growth in sales and profit.
In 2022, METRO focuses on ensuring a wide range of meat in its own production, both in terms of quality levels, from basic products to premium products, and especially by offering alternatives to ensure customers professional products portioned, calibrated, ready to cook, with professional packaging, all designed to optimize the profit of the business they own.
The novelty of the season is the range of pork and sheep marinades, developed within the Own Production Center in Ștefănești, which joins the products already available on the shelf: sliced and calibrated pork, minced meat, small and sausages, portioned beef and calibrated. The meat center, METRO's own production in Ștefănești was designed and developed to become a constant source of supply for entrepreneurs, and the products developed here reflect the experience and know-how of METRO, which, with over 40 million kilograms of meat distributed annually, is an indisputable benchmark for solutions specific to the local meat market.
"METRO's commitment to support independent entrepreneurs by all means is the reason why we have invested time and a consistent budget in our own meat production center in Ștefănești, where we are constantly developing new assortments, adapted to each season and market evolution, meant to bring differentiation and profitability. We wanted a modern, spacious location with a high production capacity, which guarantees a constant flow of goods to the highest standards to our customers, to ensure their competitiveness at all times. METRO's own range of meat products includes complete solutions, inspired by the activity, requirements and feedback of our customers and we are glad that we can constantly improve it", said Adrian Ariciu, CEO of METRO Romania.
The range of marinades that can now be found on the shelf includes, among other things, sliced pork breast, marinated with black or slightly spicy garlic, lamb pastrami marinated in stew, marinated pork neck, slightly spicy, or sliced pork neck, marinated , Maitre d'Hotel.
All the products developed within the own production unit within the logistics platform that METRO owns in Ștefănești are obtained with the help of state-of-the-art equipment, by strictly observing all safety measures, from premium raw material, elements that guarantee superior quality. of each article. At the same time, the products from our own production line will be packaged and packaged ATM (controlled atmosphere packaging) so that the properties of the meat remain unchanged.
In addition, all products are designed according to the specifics and needs of HoReCa contractors and resellers.
High quality fresh beef adapted to the requirements of the hospitality industry
Another priority of the company is the beef assortment, expanded this year with a variety of cuts and whole parts, professional packaging and various origins, the beef assortment being designed in such a way as to cover the needs of any customer who owns a restaurant or event venue.
Beef, sparrow or musk, T-bone, Tomahawk, Picanha or Bavetta, of US origin, Australia, Argentina, Brazil, Uruguay, Ireland, Romania or other EU countries, beef products on METROs offer are varied, from the most common in the basic menus of restaurants, to premium meat, suitable for à la carte menus.
Moreover, METRO welcomes professional customers with even more advantageous prices in the area of fresh products, now offering them a lower price depending on the quantity purchased for a multitude of fresh products in the categories of meat, fish, fruits and vegetables. These products are marked on the shelf with a green label.