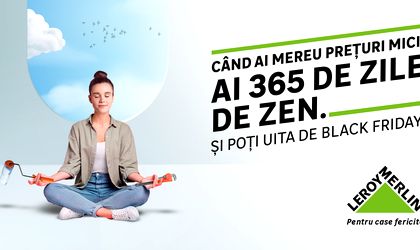 In a period full of shopping offers, Leroy Merlin, specialized retailer in construction, decoration and gardening, is launching the campaign "When you always have low prices, you have 365 days of zen. And you can forget about Black Friday", with a concept that focuses on low prices every day.
With Leroy Merlin having low prices every day of the year, the hectic and stressful period for end consumers to catch the best commercial offer in a very limited time period is pointless. In this aspect, Leroy Merlin customers are able to relax and shop whenever they want.
The campaign with focus on everyday low prices, launched nationwide, runs from 31 October to 20 November, and its message will be disseminated on the main media channels: online, TV and outdoor (subway stations in Bucharest and central points of the cities where the retailer is present). The campaign was also carried out in collaboration with the creative agency DDB.
"Based on the idea of how a brand can have something relevant to say during this period without the traditional Black Friday campaign, we wanted our customers to stay zen, with access to over 30,000 products from the Leroy Merlin portfolio at low prices, every day, without being pressured by certain offers or a certain time. All our products are low priced 365 days a year and it doesn't take a day to confirm this principle," said Frédéric Lamy, CEO Leroy Merlin Romania.
The campaign initiative is in line with Leroy Merlin's mission to offer everyone affordable home improvement products and services at the best price always.
Daily, each Leroy Merlin store, together with a dedicated department, monitors prices and where appropriate, these are adjusted to provide customers with low-priced products for all their refurbishment projects.
At the same time, Leroy Merlin's policy is not to have discount campaigns or promotions, except for stock clearance, and they already have low prices throughout the year. In order to stay on trend with decorative and technological trends, the retailer renews 30% of all products each year. To this end, all products that are no longer in fashion are liquidated, and these are marked with "subject to stock availability" price signs.
Leroy Merlin is constantly concerned with creating its own products on which it carries out quality tests. Thanks to its international presence, the retailer is able to work directly with manufacturers, offering its customers quality at the best possible price.
When you always have low prices, you have 365 days of zen. And you can forget Black Friday TV spot can be watched here.