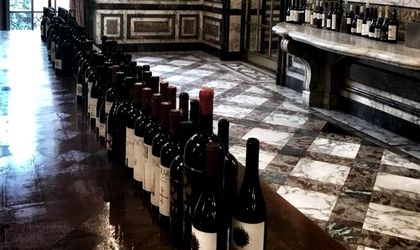 Romanian company Le Manoir, specialising in the import and sale of fine gastronomic products and alcoholic beverages, will start the distribution of Romanian wines in France this month. The company's new division was officially launched on December 8, through a one-day event at the Romanian Embassy in Paris.
During "The Day of Discovering Romanian Wines", Le Manoir organised a series of activites, centered around Romanian wineries and traditional grape varieties, meant to bring together Romanian producers and oenologists, business owners, traders and well-known figures from the French retail and horeca industries.
"Since 2004, when it was founded, our company has been promoting French culture and gastronomy in Romania. Now, 14 years later, as we are impressed by the evolution of domestic wineries, we believe we have the necessary premises to proudly represent Romanian producers in one of the most prestigious winemaking countries in the world," said Cristian Preotu, owner of Le Manoir.
Among the wineries that had tasting stands during the event organised by Le Manoir in Paris were Liliac, Petro Vaselo, Davino, Avincis, Gitana, Jelna, Pivnitele Theodorus, Villa Vinea, Gramma, SERVE, Casa Panciu, Rasova, Galicea Mare. Guests were also able to taste artisanal Romanian gastronomic products, as well as a selection of beverages like Aura water, Pater tuica, Contiu plum palinca, Ilie Galben palinca and Ana are fruit juices.
Tasting workshops and a series of connected events also took place within the event: the conference to discover Romanian wine varieties was supported by Iulia Scavo, the winner of the Someliers' Trophy in 2018, awarded by the Romanian Someliers' Association, the launch of the Gault & Millau 2019 Romanian Wines Guide and a tasting of modern Romanian gastronomic products by chef Alexandru Dumitru, the winner of the Terroir award for his collaboration with local producers at the Gault & Millau Gala in May 2018, and the chef of the Ateneu Bistro in Bucharest.
Expansion plans for 2019
"Guests who attended the event were delighted by the gastronomic and oenologic quality of the products and they showed their interest in including these products in their ranges. The good feedback created the premises for our development in France, where we will also open a Romanian wine and gastronomy store in the first half of 2019. The space will be elegant, generous, and central, near the Eiffel Tower and the Romanian Embassy in Paris. We are estimating an investment of EUR 350,000," said Critian Preotu.
Le Manoir estimates a turnover of EUR 600,000 for its new wine distribution division (Est, Est, Est) in the first year, and is aiming to create a portfolio of about 50 corporate clients by the end of 2019.
About Le Manoir
Founded by Cristian and Maria Preotu, Romanian group Le Manoir has been active in the gastronomic and niche products industry since 2004 with the following brands: Le Manoir, Comtesse du Barry, Relais & Chateaux Le Bistrot Francais, La Vinuri, Corto Maltese and Bistro Ateneu.
Le Manoir closed 2017 with a turnover of EUR 5 million and estimates a 20 percent growth for 2018.