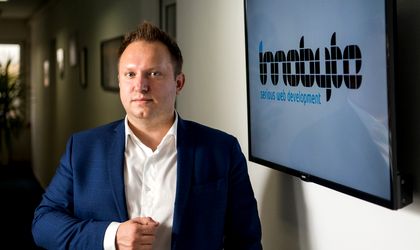 Innobyte, a Romanian software development company specialized in eCommerce, will end 2020 with a turnover of EUR 1.75 million, a 50 percent increase compared to the previous year. The company's profitability also increased, with Innobyte tripling its EBITDA to EUR 400,000.
The positive evolution comes on the background of the contribution to the development of the company's current customer services, in a period dominated by the accelerated development of digital.
"At the beginning of the year we set the turnover objective at 1.4 million euros, but our customers needs, in a period with major digital challenges such as 2020, have accelerated and generated business volumes accordingly. 2020 required our maximum presence, and the Innobyte team worked continuously to provide support to the companies for which we provide digital solutions", says Cătălin Bordei, Innobyte Managing Partner.
2020, context and market behavior
eCommerce has been, for many businesses, the only sales channel that has not suffered directly amid restrictions imposed in the pandemic context. Many companies entered the online sales segment in 2020, but even more sought to strengthen their position and accelerate their growth in order to compensate for the slowdown in the offline.
"The first quarter began with a period of uncertainty in the unpredictable economic context. Since April, however, we have registered an exponential increase in the demand for services, whether we are talking about startups or customers with an already consolidated position online. The services offered by Innobyte use modern and scalable technologies, and the advanced consulting expertise we have has practically become a competitive advantage for clients "adds Cătălin Bordei, Innobyte Managing Partner.
What companies wanted in 2020
Implementation of new logistics models adapted to the context and restrictions.
Emphasis on analyzing and improving the performance of the eCommerce platform, but also on facilitating the ordering process.
Securing the platform and personal information of customers, critical elements especially in the current context.
"The eCommerce market is maturing, as evidenced by the ever-increasing percentages of card payments, but also the development of platforms – which are becoming increasingly complex and user-friendly. The preference for online shopping is a trend that will be maintained even after returning to a context without restrictions ", says Cătălin Bordei.
Innobyte impact and results
With revenue growth, Innobyte has also significantly optimized its profit performance. The company's estimates for EBITDA at the end of the year show a result of 400,000 euros – the highest recorded by Innobyte in the last 5 years.
"We are at a stage where the meeting points with consumers are in the process of transformation, as well as thair behavior and the behavior of companies that want to stay close to them. Online presence and connecting with your audience through technology are essential, and if until now they were a medium-term plan, they have become an immediate necessity for any company that wants to stay on the market and be competitive in the coming years ", considers Cătălin Bordei.
Innobyte's business focuses on providing solutions with long-term business results for both its local and internationally active customers, but also on maximizing the positive impact of digitization.
The online platforms and stores developed by Innobyte locally process tens of thousands of orders per month and generate sales of over 100 million euros.
Innobyte is a Romanian software development company specialized in eCommerce that aims to maximize the business potential of its partners by developing secure, scalable and innovative eCommerce platforms. In addition to the eCommerce development and maintenance services offered, Innobyte also provides security, performance analysis and improvement, audit and business consulting services for online stores around the world. In its 14 years of activity, Innobyte has developed software programs for hundreds of customers working in eCommerce and areas such as technology, health, banking or legal, tourism or fashion.
The company is a 100% Romanian business and was founded by businessman Cătălin Șomfălean, who runs Innobyte together with Cătălin Bordei, both in the role of managing partners. Both have over 10 years of experience in entrepreneurship and more than 15 years of activity in online commerce, software development, digital, marketing, telecom and retail.