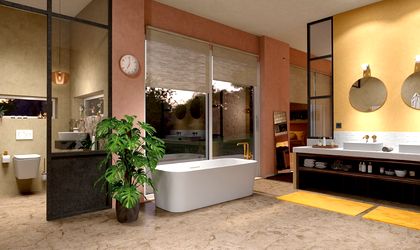 The decoration of the house acquires new and new valences. It represents not only the placement of some pieces of furniture and accessories inside a space, but also providing the well-being for each member of the family. Thus, well-being and comfort, are now the most important guide lines for decorating the home. Considering this, Hornbach, one of the leading local retailers of building materials and gardening, is launching four new interior design styles for a proper well-being inside your house.
"Maximizing comfort and the return to natural materials are the most important trends today. The house must be, beyond any rules of decoration, a home that provides to the family the relaxation it needs at the end of a busy day. Precisely for this reason, we propose to our customers four interior design styles, perfectly created to meet this need. We also provide them with everything they need in order to turn their houses into a real homes. Various floors, plasters and wallpaper in different shades, special textiles and decorations, all can be found in our stores ", said Mugurel – Horia Rusu, General Manager of Hornbach Romania.
Thus, according to his statements, the home design styles proposed for this season are Happy Hours, Botanical Beauty, Take it Easy and Back to Nature.
Happy Hours – Light contrast
The color palette inside Happy Hours style aims to maximize good mood thanks to the brightness it offers. Functional, natural, authentic, but also playful at the same time, Happy Hours is based on shades of pale green, blue, powder pink or pale orange. The combination of these, along with floral-inspired decorations, will provide good mood and will create the perception of a joyful life.
Botanical Beauty – Back to the roots
The Botanical Beauty design combines perfectly the comfort and convenience. It suggests a return to the roots, to nature, to everything that is authentic. Simplicity and the naturalness of the Nordic style are the main characteristics of this arrangement style. All elements are ensuring peace within the family. Botanical Beauty expresses its power through the proposed color combination. The strong shades of green and the gentle shades of gray complement each other harmoniously, creating a perfect balance. The new style proposed by Hornbach is also dominated by the presence of plants located in key areas of the rooms. They are aimed to induce the feeling of relaxation that only nature is able to provide.
Take it Easy  – Everything can be simple
When all aspects of your life seem difficult to manage, at the end of a busy day or simply when it's cold outside, everyone wants to take refuge in a warm, welcoming, light-filled environment. This is exactly what Hornbach's Take it Easy design style aims to achieve. It is differentiated especially by the mix of colors created especially to caress your senses. The combination of several shades of cinnamon, saffron, honey and tones of red or coral will create you the feeling of comfort.
Back to Nature – So little to feel good
Emotions are what matter most in this design style. Back to Nature wants to bring natural elements in the foreground and to integrate them in as many corners of the house possible. In fact, returning to nature invariably creates a state of well-being. Hornbach's proposal is based on shades of brown and cream, creating a feeling of brightness and tenderness. The usage of natural wood in most furniture items, the concept of the utility and longevity inspired by nature are other important aspects that differentiates this decoration style.
The four interior design styles proposed can be found during this period inside Hornbach's stores.